When you think about heating and air conditioning  Wheaton's comes to mind.  The company has been part of the Tompkins County landscape since 1936, when it started as a family owned heating, plumbing, and sheet metal business.  While it has gone through several makeovers over the years, it continues to focus on heating, plumbing, and air conditioning.  But today the company has two major focuses: to offer affordable green technology to residential customers, and to offer comprehensive, responsive service for homeowners.
"We've rebranded Wheaton's," says Sales Manager Kellie Eldred.  "We're more of a green company looking to service whatever needs any homeowner has.  We're available to do most anything."
Eldred says the company is the only one in the area that offers a one-stop approach.  Rather than buying heating service or products from one company, air conditioning from another, or plumbing from a third, she says a technician can come to service one without inadvertently disconnecting the other.  A service call for air conditioning could lead to solving a plumbing problem before it becomes a problem.
"We're trying to broaden our horizons so that we're more of a one-stop shop," she says.  "When a homeowner has a problem we want them to be able to call us whether it's plumbing or heating.  It could be your water lines having an issue.  You could have hard water or you're sick of smelling sulfur.  We want you to be able to call one place.  It's a lot less for a homeowner to remember.  We want to be able to take care of all their needs."
The last piece is responsive service.  Eldred says that Wheaton's is the only area company you can call at any time, day or night, and speak to a human being.  The company strives to get back to the customer within ten minutes to say that a technician is coming.  If a heating emergency can't be repaired right at the time of the call, technicians typically loan the homeowner a space heater until the problem can be resolved.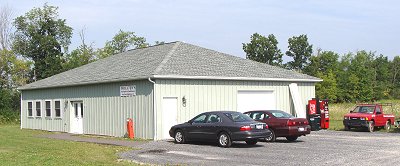 Weaton's moved to a new Peruvville Road location last year
For years a major component of the business was its sheet metal shop on Craft Road in the Village of Lansing.  The shop made custom plenums for heating and air conditioning customers, and a variety of one of a kind items.  It was popular with Cornell students in the engineering and art departments.  A motor shop was also part of the operation.  But as prefabricated parts became more prevalent, that part of the business became less profitable. 
The shop was closed, and the company started thinking about a smaller facility from which they could concentrate on heating and air conditioning, as well as non-seasonal items.  Last year they moved into their new building on the eastern border of Lansing on Peruville Road.
"We've condensed everything to things that help increase our business profitability," Eldred explains.  "Now we're focussed on heating, plumbing, hot water heaters including on-demand systems and point of view systems.  Water softening systems, generators, gas fireplaces, inserts, space heaters, radiant floor heating for boiler systems, geothermal heat pump systems, air to air exchange heat pump systems.  We basically do it all.  We don't turn away anything.  We work on gas, propane, and oil products."
With a focus on green and energy efficient technology the new headquarters 'walks the walk.'  The building was designed to be energy-efficient, and equipped with a high efficiency propane furnace with an Energy Star rated outdoor condensing unit.  The duct work was designed to make the air flow high efficiency as well.
The company also installs alternative energy equipment such as solar panels, ground source heat pumps, and windmills.  While they are still expensive, she says that government programs pay up to 50% of those types of applications.
"Every six months something new comes on the market," she says.  "That's why we're constantly training.  I'm guessing that probably in the next ten years you'll see solar energy become more affordable for every homeowner."
As sales manager Eldred is the 'face' of Wheaton's.  She began answering the phones and scheduling appointments, but with experience in marketing and sales she migrated to her current position.  When a potential customer calls she goes to their house to conduct a whole-house evaluation.  She calculates the load needed for a furnace to heat the home, measures insulation, windows, and doors to gauge heat loss.  She prices a system for that house.
"If you're building a home we'll come out and spec the house," she says.  "We'll design the ductwork system and/or boiler system of you want radiant floor.  We'll engineer it from beginning to end and we'll guarantee that it will perform, or your money back.  We're one of the only companies here in Ithaca that offers 100% satisfaction guarantee or your money back."
The company services customers in Tompkins County, Cortland County, Tioga County, Seneca County, as far as Pensylvannia.  They also try to find fun ways to show the public what they have to offer.  Last year they held an contest to locate and replace the oldest furnace in their areas.  Homeowners called and Eldred went to their homes to confirm the age of their furnaces.  The winner got a free energy-efficient furnace.  It turned out to be in Ithaca.
"It was a big old octopus furnace, circa 1910, that consumed their entire basement.  They ended up with a high efficiency furnace," Eldred says.  "A year and a half later they've saved a lot of money.  I spoke with her two months ago and they're pleased as pie."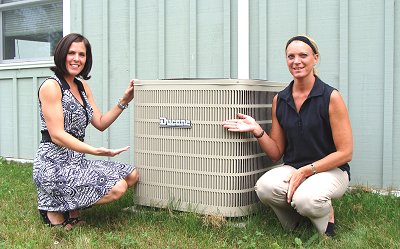 Sales Manager Kellie Eldred and Office Person Renee Williams
with an Energy Star rated outdoor condensing air conditioning unit
Eldred says the troubled economy have greatly impacted Wheaton's, though not necessarily as you would imagine.  The beginning of the year hit the company hard, because people weren't spending money on new systems, or even to repair existing ones.  She says this is the first time she's seem people go without heat in the winter because of the expense.  But government stimulus packages and NYSEG rebates have kept Wheaton's busy.  And in the hottest days of this summer they are selling... heating systems.
"We've had the strangest year we've ever seen," she says.  "All summer long I've been selling heating equipment.  People are less likely to invest money in air conditioning because it's seen as a fun purchase, not a necessity.  Now we have the federal tax credit for upgrading heating equipment, and NYSEG has it's rebate program as well.  So we're seeing homeowners preparing for next winter.  So we're still doing a lot of heating business this summer."
The bad economy has also narrowed lending options for customers who need new heating or air conditioning systems.  The company is being proactive in finding new options that are beneficial to its customers.  Eldred  says that the financial squeeze is good for the industry, because they are always looking to improve the equipment to make it consume less energy and work more efficiently so when homeowners do make that investment they'll see a quicker payback on their investment.
While Wheaton's does some work for small businesses, its focus is on residential work.  Since the company's president Scott Hotchkiss purchased it a few years ago he has been positioning it to be a part of green technology's future, and to be a responsive, comprehensive service company.  Wheaton's has 10 employees including Eldred, Hotchkiss, an office person who schedules technicians' calls among other duties, a parts manager, and the service technicians.  The technicians are cross-trained in the various technologies the company deals with, and even in sales to keep the customer contact personal and unsegmented.
"Our niche really is homeowners," Eldred says.  "We are professionals, and we are the experts when we walk into someone's home.  We know exactly how to service it, install it, or take care of it."
----
v5i33