Beechtree Care Center
has spent the last few years morphing from a nursing home to a home where living assistance takes place.  The South Albany Street facility stresses 'person centered' care, designating the floors of the facility as neighborhoods, moving away from institutional interior decoration, and giving residents a say in how they live their lives there.
"We're so happy to be able to offer low to moderate income people a choice that's a good choice for those people who can't buy good care when they're aging," says Director of Development & Community Relations Ellie Hall Minnis.  "We really are pleased to be that place in this community."
The facility provides long term care and rehabilitation care.  It employees about 120 professionals, and has an active volunteer program that attracts Ithaca College students and community members.  It offers physical therapy on-site, as well as occupational therapy and speech therapy.
The first floor, 'Cayuga Commons' is the neighborhood for residents who can move around themselves.  A wing on that floor is reserved for rehabilitation.  A garden terrace provides a space for residents to go outdoors in good weather.  Barbecues are held there in the warmer months.  The second floor, 'Treman Terrace', is for long term residents who are more profoundly disabled. 
'Senaca Summit' on the third floor is the Alzheimer's wing, dedicated to people who live with dementia.  An instrumental part of treatment on the third floor is Linda Madori's Therapeutic Thematic Arts Programming, which uses the arts to stimulate brain action to slow down the degenerative process that is caused by dementia.  Hall Minnis says it doesn't stop dementia but it may slow it.
At this time there is no wifi and people don't have their own computers.  Hall Minnis says that most residents are not interested in using computers, but when the next generation of residents comes computers will be more of a need.  She says the facility has a goal of establishing wifi and a computer on every floor for residents who don't have their own.  She says they also want to acquire a computer that responds to voice commands for residents who don't have the use of their arms or legs.
Beechtree started almost a hundred years ago as the Reconstruction Home when it opened in 1920 to treat children with polio.  In 1954 the polio vaccine was discovered, and the facility moved to nursing and rehabilitation for people with disabilities, and later because a long-term care center for the elderly.  About four years ago Patrick Weir was hired as CEO.  With 20 years of experience, Weir brought a new philosophy to the center.
Weir reviewed each employee and removed agency nurses in favor of staff nurses who would be more invested in making the environment better for residents.  He put a new management team in place, and new staff who share his vision.
"He brought with him the vision for person-centered care," Hall Minnis says.  "It's a relatively new movement in the nursing home world that puts quality of life on an equal footing with quality of care.  It focuses on making the nursing home a home, not an institution or quasi-hospital."
That brought about a culture-change among the staff that put creating a stimulating environment for long term residents on a par with quality nursing, and the mechanics of care.  Weir says the approach not only improves the quality of life for residents, but for their families as well because they spend more quality time visiting their loved ones rather than spending most of that time advocating for better care.
"Every place I've worked it's been all about increasing the quality of life for the residents and making it more about them than about the business piece of it," he says.  "You don't have a business unless they're being cared for the right way.  Everyone is deserving of that."
Another piece is transforming the facility from an institutional hospital look to a warmer, home-like look.  Beechtree raised $85,000 for its 'Neighborhood Transformation Fund' over the past two years.  The transformation is in progress, and you can see a big difference in areas that have been painted or wallpapered in warm colors with new curtains and furniture you might find in a home as opposed to vinyl furniture you find in waiting rooms.  Restaurant-style dining was instituted.  New flooring has been installed.  There are designated spaces for a library/reading room, television areas, a family room, and activity areas.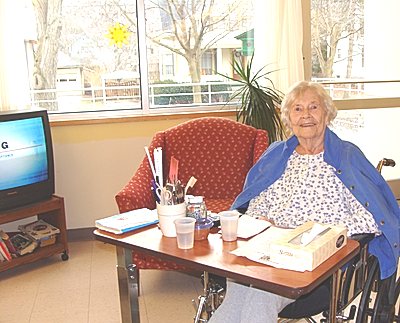 "It was about making Beechtree Care Center be more like home," says Hall Minnis.  "We got grants from many of the local foundations and one in Colorado.  Last year's annual campaign was focused on our Neighborhood Transformation Fund and many community members donated.  They were very generous with us."
Each morning residents get a schedule of available activities, as well as the day's menus and alternative meal choices.  The staff tries to find ways for residents to continue what's normal to them, but does not insist that they participate in specific activities.  Activities take place on all three floors, and residents can participate in activities in community spaces on different floors.  Recreation staff stay in contact with residents who are not interested in programmed activities.
"It's such a wonderful community," says Hall Minnis.  "The staff really comes together.  We all see it as a place where people live.  I love going to each 'neighborhood' and stopping and talking to the residents.  As I get to know them I know what they like or don't like."
Weir says that the people-centered approach has had good results, and that feedback from residents and families who have noticed the changes.
"I love to see the residents and the families have time where their visits are truly visits instead of all of their time being spent being advocates," he says.  "They can come and truly have their quality time visits rather than having to feel they are on a mission to do something here.  That's the most rewarding part of it."
v8i7