For many years hydroponics was something that was done in high technology settings.  Over the years people have learned how easy it can be to grow plants in water in their homes.  In Ithaca, equipment as well as expert growing advice can be found at
Hydroponic Shops of America
.  Partner Jon Finlay shares his passions there for hydroponic growing as well a brewing beer at the Willow Street store.
"You can grow anything hydroponically," Finlay says.  "You can grow heirloom tomatoes that will taste wonderful if they're picked fresh.  If you grow local and sell local you're picking things when they're ripe.  Restaurants could be using tomatoes for salads that lunch that were picked at 8 o'clock that morning.  You get the full flavor, with nutrients, nice and fresh."
Finlay says growing produce hydroponically makes sense on any scale, because you can grow year 'round in a smaller area than traditional planting requires.  He says it's a myth that hydroponically grown produce doesn't taste as good, mainly perpetrated by products sold at grocery stores that are grown to last as long as possible, rather than for taste.
"I think that came about because when we go to a place like Wegman's and buy hot house tomatoes that were hydroponically grown, we think of that as typical," he says.  "All those tomatoes are picked when they are green and rock-hard.  They are not grown for flavor.  They are grown specifically to travel well.  Most of these hot house tomatoes are grown in California.  They have to travel 3,000 miles and spend weeks in a warehouse or on a truck.  They need to make sure they can get them here and still look presentable."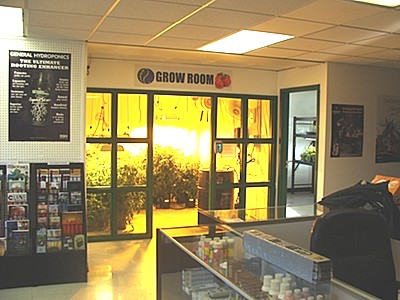 For beginners Finlay recommends starting small with a single light in a 2x2 or 4x4 growing area.  You start with a seed cell tray, the kind with a lot of little compartments for starting plants.  The difference is that the pods are filled with stone, not dirt.  As the plants begin to grow you choose the best growing plants to replant into a small, square bucket that can hold about a gallon of water.  The bucket is floded and drained from the bottom three or four times a day.
"Our idea is to find out what our customers are looking to grow," Finlay says.  "If they want a kitchen garden we pick out two different types of tomato, two different types of peppers, some lettuce, some greens, maybe some herbs.  We try to put in as many things as we can without turning it into a jungle they can't manage."
Finlay says that hydroponic gardening really makes sense economically as well.  Let's say you are just going to grow lettuce for your family of four.  The greens, the system to grow them, and the light, cost about $100.  The amount of nutrients needed per year to grow 36 heads of lettuce costs about $18.
Rather than harvesting a whole lettuce you pick off the largest leaves.  The lettuce is good for approximately 70 days before it starts turning bitter.  You start growing 36 new heads from seed about 15 days before the end of that cycle so you have a constant supply.  Finlay says you can start picking leaves three days after transplanting into the hydroponic system.
"Quite a few people do that," he says.  "They use between $10 and $18 of nutrient per year.  So $100 plus $18 for one year.  A head of organic lettuce at Wegman's is four bucks.  After the first year it would only cost $18.  If you're serving a salad for a family of four every night you're probably using a head of lettuce every night."
Using Finlay's numbers that means buying organic lettuce for a year would cost $208 while growing it hydroponically would save you $90 in the first year and $190 each year after that.  It would mean growing 5.2 crops per year, each crop of 36 heads of lettuce lasting 70 days.  If you figure it by the head you save even more: 5.2 crops times 36 heads per crop is 187 heads of lettuce times $4 is $748, which represents a savings of $630 in the first year and $730 per year after that.
"If you are growing things like tomatoes they have a much longer cycle and they consume more nutrients," he notes.  "So greens are cheaper.  With tomatoes you still make out, and the plant lasts longer.  In a 3x3 tent three years ago we had six small pepper plants that constantly produced peppers with a 190 watt florescent light turned on twelve hours a day.  After ten months we harvested 202 full sized green peppers off of those plants."
Finlay grew up in Ithaca.  By the time he turned 18 he knew he wanted to work in the food industry, hoping to own a restaurant.  He made pizza for many years and ran a shop in Collegetown.  He then worked at Regional Access, a natural, organic and gourmet food distributorship in Trumansburg.  Then he became a computer technician.  He met his wife Tara when they both worked at Clarity Connect.
Tara grew up in Waverly.  She worked at a newspaper as a court reporter for years, then computer technology.  After Clarity Connect they moved to Boston to do IT work, and eventually came back to Ithaca where Jon worked at Cornell.  But Jon missed food work, and when the opportunity came along he bought into Hydroponic Shops of America, which also has locations in Syracuse and Albany.
"I'm now moving back to my roots.  I love working with people.  They come in with questions, with stuff to share.  I treat this place as a learning center, and I'm learning as much as my customers are."
Last August he moved the store from its 900 square foot Elmira Road store to an 11,000 square foot location on Willow Street.  That provides plenty of room to offer equipment and classes in his other passion, brewing beer, as well a wine making equipment.  He says Ithaca didn't have have a good beer brewing supply store until now.
The store is a destination for a lot of people, but the Cayuga Lake Waterfront trail passes nearby, generating foot traffic as well. 
"A lot of them are outdoorsy people who are thinking about their health, so they come in," Finlay says.  "People are happy, and also like-minded.  We are fine tuned to specific things they are passionate about.  It's very easy to get excited about other people who are also passionate about it."
The Finlays love working together, as well as working at a job they love.  Tara, an artist, handles marketing and advertising, as well as the Web site.  She says she loves seeing her husband living his passion, as well as being able to contribute the things she does well. 
Finlay agrees.  He says it is very important that the store be manned by people who really know about and are passionate about hydroponic growing, something he and Tara share with their employee Adam Killebrew.
"It's always something new," Finlay says.  "There is accomplishment every single day.  People come back and let us know how great it's working, or what they had to change to make it work for them.  We use that information the next time somebody comes in."
v8i48