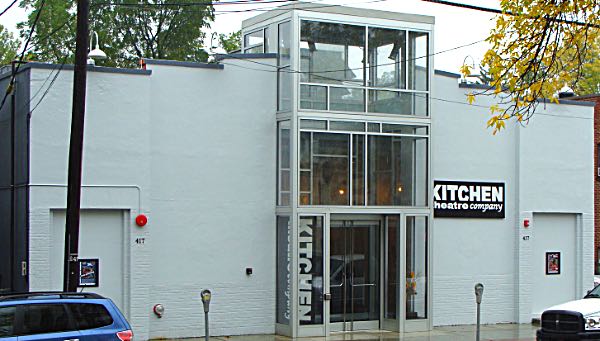 Kitchen Theatre Company continues its 2016-17 season and heats up the winter with Sex With Strangers, a provocative and sensuous exploration of ambition and obsession in the digital age. Sex With Strangers runs at Kitchen Theatre Company from March 12 to April 2, 2017.
In a world where the number of clicks can translate to stardom, twenty-something Ethan writes a blog of "sexcapades" that catapults him into instant celebrity and success. Forty-something Olivia is a mid-career novelist, widely unappreciated and hoping to get a second wind. When the two are waylaid in a remote cabin, the chemistry is explosive. Written by Laura Eason, best known for her work on TV's "House of Cards," Sex with Strangers investigates the confluence of ambition, success, cyber identity, and the price of fame.
"The play asks so many questions: How far will we go to achieve recognition? Whom do we trust, and with what? Our hearts? Our ambitions? Where do we find fulfillment? In work? In love?" says Artistic Director, Rachel Lampert. "I am eager to see this sizzling play on our stage."
Sex with Strangers features LeeAnne Hutchison and Darian Dauchan as Olivia and Ethan. Mr. Dauchan previously appeared at Kitchen Theatre Company earlier this season in Death Boogie. Other KTC credits include: The Whipping Man, The Brothers Size, and Black Sheep. LeeAnne Hutchison is making her KTC debut. Ms. Hutchison has appeared in productions at BAM, Next Wave Festival, NYC, Arkansas Rep, and West Virginia Public Theatre among others.
The creative team includes scenic design by David L. Arsenault (KTC credits: Dancing Lessons, Peter and the Starcatcher, Seminar, Sunset Baby, among others), lighting design by Tyler M. Perry (KTC credits: Dancing Lessons, Peter and the Starcatcher, I and You, The House, Thin Walls, among others), and costume design by Lisa Boquist (KTC credits: Hand to God, Precious Nonsense, The Mountaintop, Paloma, among others). Sergey Levitskiy (sound design) is making his KTC debut. Jen Schilansky (stage manager) has been the resident stage manager for the past 5 seasons. Casting is by Judy Bowman.
Rachel Lampert directs the play. Lampert has directed over forty main stage productions during her 20-year tenure as Artistic Director of Kitchen Theatre Company.
Laura Eason is among the most-produced living playwrights in the United States and Sex with Strangers one of the top ten most-produced plays in the 2015-16 American regional theatre season. Ms. Eason is the author of 20 plays, original works, and adaptations, as well as being a musical book writer and screenwriter. Selected productions include The Undeniable Sound of Right Now, The Adventures of Tom Sawyer, and Around the World in 80 Days. As a screenwriter, Laura wrote on seasons two and three of the Emmy-winning Netflix show "House Of Cards."
She is a member of Rising Phoenix Rep, an Affiliated Artist of New Georges and an alumna of the Women's Project Playwright's Lab. She is an active ensemble member and former Artistic Director of Lookingglass Theatre Company in Chicago, recipient of the 2011 Regional Theatre Tony Award. Laura is a graduate of the Performance Studies Department of Northwestern University. Originally from Chicago, she lives in Brooklyn, NY.
In conjunction with the Ithaca world premiere of Sex With Strangers, Kitchen Theatre Company will present several surround events. Post-show talkbacks with the playwright, director and design team are scheduled for Sunday, March 12th, Tuesday, March 14th, and Wednesday, March 15th (preview performances). On Friday, March 17th and Friday, March 24th, there will be a post-show talkback, moderated by Lee Rayburn from WHCU radio, with the cast, director and playwright. There is also a free to the public pre-show talk on Wednesday, March 29th at 6:30pm by novelist Leslie Daniels on "A Few Ins and the Many Outs of Publishing."
v13i9