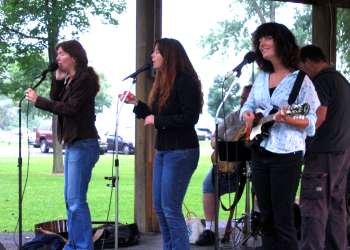 Park Commissioner Steve Colt was disappointed by the weather, but pleased with the concert. He said he was surprised at how everybody just stayed in the rain to hear the sisters, but felt more would have come if it hadn't rained. Nevertheless there was a good sized crowd surrounding the pavilion where the band performed.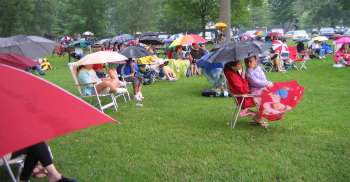 Umbrellas up
The sisters performed songs from their new album, due out in about two weeks, as well as old favorites. Children danced up front, while adults brought picnic dinners to enjoy during the concert. When it rained umbrellas went up. When it stopped down they went. But just about everyone stayed to enjoy the concert.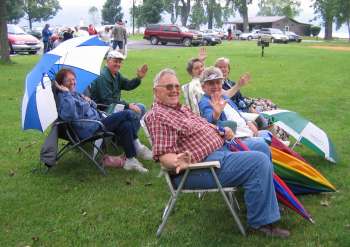 Last night the Ithaca Concert Band took the stage (past our deadline). As of this writing the weather looks more promising. Five more concerts will fill out the season:
July 13 - 6:30 - Steve Southworth & the Rockabilly Rays
July 20 - 6:30 - The Ageless Jazz Band
July 27 - 6:30 - New Orleans Allstar Jazz Band
August 3 - 6:00 - Joe Salzano Band
August 10 - 6:00 - Rubin Everidge & The SanAntones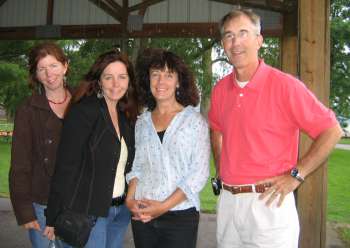 The Burns Sisters (left to right) Jeannie, Annie and marie
with Parks Commissioner Steve Colt
----
v2i26
The weather disappointed, but the music didn't as fans braved the rain to hear the Burns Sisters perform in Myers Park last Thursday (6/29). The singers were there to kick off Lansing Park Department's Music in the Park series. Cars lined the central park area like box seats in a theater, but people on the lawn simply put up umbrellas when it rained while the band performed.