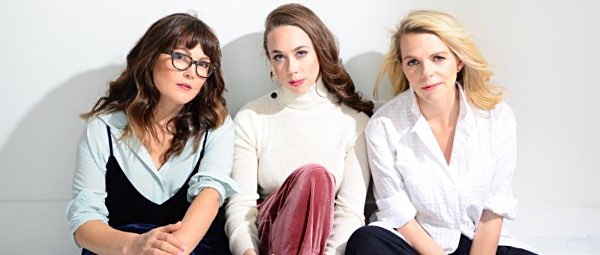 Fresh off a triumphant tour of Europe, I'm With Her -- the band of Sara Watkins, Sarah Jarosz, and Aoife O'Donovan - is announcing a new slate of tour dates for this fall, including a stop at The State Theatre in Ithaca, NY on Wednesday, November 7th.
This newest leg of touring, dubbed the Overland Tour, will kick off on the summer solstice at the Telluride Bluegrass Festival, which is where they first came together in 2014. And on August 1, they will be among the featured performers at NPR Music's "Turning the Tables Live: 21st Century Edition," presented by Lincoln Center Out Of Doors in New York City.
The band recently stopped by Spotify's New York studios and recorded two songs for an exclusive Spotify Singles Session. Listen to this rendition of their original song "I-89" and a stirring cover of Vampire Weekend's "Hannah Hunt" here.
"In 2015, we did our first tour. Piled into a station wagon, we drove all around the UK and Ireland, just the three of us. Modern Vampires of the City, Vampire Weekend's third album, had been out about a year but it became the soundtrack to those sunny drives on the wrong side of the road," the group recalls. "'Hannah Hunt' had always been on our mind as a song to cover, and this Spotify session was the perfect excuse to work it up! It is a total joy to sing this song."
The band's recent European tour was a smashing success. They played to capacity crowds in Amsterdam, Belfast, Berlin, Copenhagen, Dublin, London, Paris, and Stockholm and earned accolades from critics across Europe. Gigging NI's Sarah McCrossan praised the group's '"'phenomenal performance'"' in Belfast and noted, "they make hairs stand on end singing a cappella."
Bristol 24/7's Martin Siddorn enthused, "it's when they sing in unison that angels are heard," while Louder Than War's Lee Hammond offered, "To put it lightly, we're completely blown away by the brilliant I'm With Her as their talents truly shine during this exceptional performance."
v14i22