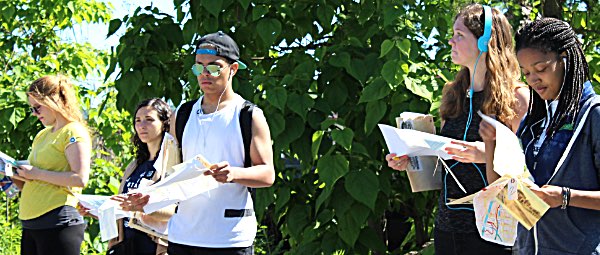 The Cherry Arts presents its first production of the 2018/19 season. The Missing Chapter, by Ithaca writers Katie Marks & Aoise Stratford, is a brand new, immersive headphone walking play based on Ithaca's silent film past. Produced in partnership with Wharton Studio Museum, the play runs Fridays, Saturdays, and Sundays from August 31–September 9 and begin at the Picnic Pavilion in Stewart Park every 15 minutes. The walk is approximately one hour in length, and ends near the park's Carousel.
The Missing Chapter introduces audiences to Wharton Studio heroine Beatrice Fairfax, a newspaper advice columnist for the lovelorn and amateur sleuth. The 10-episode Beatrice Fairfax silent film serial was based on the nationally-syndicated 'Dear Beatrice Fairfax' advice column and produced by the Wharton Studio in Ithaca starting in 1915. In The Missing Chapter, Beatrice and her sidekick Jimmy solve a crime in the heady days of the women's suffrage movement, an episode is filmed on the Wharton Studio lot, and the audience winds its way through Stewart Park and discovers some thrilling 'missing chapters' in the history of Ithaca.
The Missing Chapter combines text, dialogue, music, and sound-effects to create an unforgettable theatrical experience on foot in Ithaca's beloved Stewart Park. Playwrights Katie Marks and Aoise Stratford, who respectively teach Creative Nonfiction at Ithaca College and Playwriting at Cornell, have immersed themselves in the history of the Wharton Studio and the momentous political, social and cultural movements of 1915 Ithaca.
The Missing Chapter was inspired by The Cherry's first foray into headphone walking theatre in 2016 – the hit Storm Country, seen by more than 500 people.
"I experienced Storm Country during the summer of 2016 and absolutely loved it!" says Diana Riesman, Executive Director and Co-Founder of Wharton Studio Museum, a local nonprofit dedicated to preserving and celebrating Ithaca's silent movie history. "The play really stayed with me, and I thought it would be wonderful to develop a similar type of theatre experience using the Wharton Studio era as a backdrop for a story, and to have the play take place in Stewart Park where the historic studio building still stands." Riesman pitched her idea to The Cherry's Artistic Director, Sam Buggeln, and the piece was then developed by Cherry artists.
Cherry Artistic Director Sam Buggeln says, "I was so delighted when Diana approached me with the idea for a headphone play about the Wharton era. When we produced Storm Country it was so rewarding to not only introduce Ithaca-area audiences to some hidden histories of Ithaca, but also to explore a new and exciting kind of theatermaking. Ithaca's silent film history is another wonderful source of only-in-Ithaca stories, and it's been a blast working with Katie and Aoise on what is going to be a one of a kind experience!"
v14i32