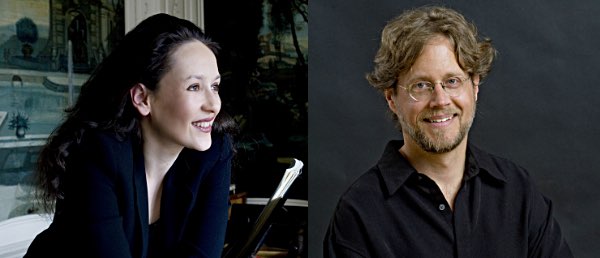 Under the artistic direction of pianists Miri Yampolsky and Xak Bjerken, Cornell University's Department of Music presents Mayfest, its annual springtime festival of world-class chamber music. Held May 17–21, 2019, Mayfest will feature numerous guest artists from the world's finest orchestras, and will also highlight the exceptional talent of Ithaca-based musicians.
Bjerken and Yampolsky perform with local and international friends throughout the year, collecting ideas for musical partnerships and programs for Mayfest. Invited artists this year include a mixture of new faces, including violist Beatrice Muthelet, the principal of the Mahler Chamber Orchestra; oboist Dudu Carmel, the principal of the Israel Philharmonic; and French horn player Chezy Nir, the former principal of the Israel Symphony Orchestra. Returning friends include favorites cellist Zvi Plesser, who has performed with the National Symphony Orchestra and Berlin Philharmonic, among others; violinist Xiao-Dong Wang of the Metropolitan Opera Orchestra; and violinist Christina Bouey, known to Ithaca audiences as the Concertmaster of the Cayuga Chamber Orchestra.
Performers from Ithaca will include Kyle Armbrust (viola), John Haines-Eitzen (cello), Alex Shuhan (horn), Roger Moseley (piano), Rachel Schutz (soprano), and jazz students from Ithaca High School.
Mayfest concerts offer a range of music over the five days, from favorite masterworks to lesser-known gems, that will allow the variety of instruments to each have a chance to shine. Bjerken notes that "We are combining audience favorites, both of the intimate and barn-burning types, with some real gems that are rarely heard — like a sextet by Beethoven for two horns, and a gorgeous sextet by Zemlinsky for strings with singer. Also, for the first time, we are featuring an oboist, principal of the Israel Philharmonic, so this allows us new possibilities. The concerts are special because the audience can see up close the way people communicate and adjust in the moment; it's a constant conversation that reflects the drama and sensitivity of the music, at times vulnerable and at others, bold."
The opening night performance on Friday, May 17 includes Beethoven's Trio in B-flat Major for oboe, cello, and piano, Op. 11, as well as Prokofiev's Scenes from Romeo and Juliet. Saturday, May 18 at 8:00 pm at Barnes Hall features two Brahms works highlighting the viola and horn, plus Schumann's Romances. Sunday, May 19 is the annual concert at the Lab of Ornithology at 4:00 pm and will include Music of Nature: Zemlinksy's Lilies-of-the-valley blossomed everywhere for soprano and strings, and works by Beethoven and Britten. Monday, May 20 is an intimate evening at the Carriage House Loft at 8:00 pm and will present selections from Richard Strauss and Glinka, as well as jazz from the IHS quartet. Finally, the festival concludes on Tuesday, May 21 at 8:00 pm at Barnes Hall with Marcello's Oboe Concerto and a pair of blockbuster piano quintets from Elgar and Brahms.
v15i16