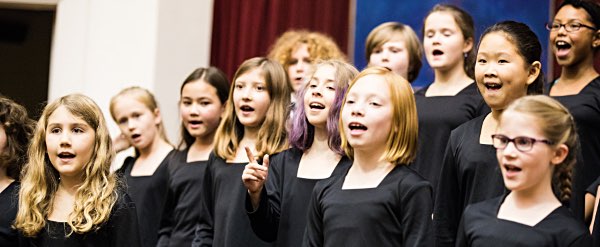 The Community School of Music and Arts (CSMA) is adding a new Ithaca Children & Youth Chorus (ICYC) ensemble, Ancora, for singers ages five to adult. 'Ancora' is an Italian word that is used for multiple English language concepts including 'again', 'still' 'yet', and 'more': an idea that encapsulates the foundation and purpose of the Ancora choir. It is a place for singers of all ages and diverse cultures to come together and make music. A place for past ICYC members to return to the community. A place for current singers continue learning and growing. A place for parents and family members to engage their family and community in making music and forming connections.
Ancora, which will begin rehearsing in the fall of 2019, is a welcoming inter-generational choir that provides a place for anyone and everyone with a love of music to sing together. Emphasis will be placed on the group experience and creating community as well as musical literacy, exploring diverse repertoire, and healthy singing. New members, ICYC alumni, parents and other family members are all welcome.
Singers who are concurrently enrolled in another ICYC ensemble may register for Ancora for no additional charge.
The Artistic Director of ICYC, Kathleen O'Connor-Ballantyne, also a composer, author, and Associate Editor of Choral and Classroom at Alfred Music, shares her thoughts on the new group. "Contemporary research continues to underscore the lifelong value of choral singing for musicians of all ages as a way to relieve stress and promote prosocial values. We feel strongly that Ancora will help ICYC continue a 30-year tradition of growing and supporting musicians at all stages of development."
ICYC provides weekly choral instruction in a supportive environment, allowing each student to grow and practice their musical skills through a culturally diverse repertoire – traditional to contemporary. Students concentrate on building their music literacy, develop sight-reading, vocal technique, and musical notation skills while gaining self-confidence. Each year, participants share their love of music through several community concerts.
Beginning this fall, ICYC will be comprised of five groups of singers from ages five to adult, including Dolce, Prelude, Intermezzo, Chorale and Ancora. The chorus is active September through May and students are welcome to join throughout the season.
v15i22