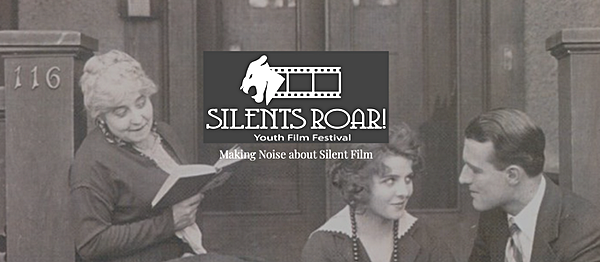 Wharton Studio Museum (WSM), Okumu Productions, and Ithaca College's Roy H. Park School of Communications announced Monday that Silents Roar!, a silent short-film festival for youth in the Southern Tier that premiered in 2017, is going virtual on June 18th, 2020.
Inspired by the role Ithaca and its surrounding region played in movie history over a century ago, Silents Roar! was conceived of as an opportunity for Southern Tier youth ages 11-18 to explore storytelling through the making of a silent film, and, also, as an homage to the Wharton brothers -- Theodore and Leopold -- who built the Wharton Studio into a bustling motion picture production entity in the early part of the 20th century.
Sadly, due to the COVID-19 pandemic, Wharton Studio Museum had to cancel the original Screening & Awards Ceremony on April 18th.
"It was disappointing," said Diana Riesman, WSM'S Executive Director, " not to be able to showcase the film submissions on which students worked so hard, and which were received prior to New York's shelter in place order which closed the schools."
And so, in the spirit of "turning lemons into lemonade," Wharton Studio Museum, in collaboration with Okumu Productions and The Park School at IC, is excited by the decision to adapt the film festival into a virtual, live streaming event on Wharton Studio Museum's Facebook page, where movies will be safely screened and celebrated from the comfort and safety of everyone's homes.
Silents Roar! Film Festival Screening & Awards Ceremony will take place on Thursday, June 18, 2020 from 7pm-8pm.
All submitted films will be reviewed by a jury panel of film professors from Ithaca College and other media producers. Trophies for 1st, 2nd, and3 rd place will be awarded, there will be Honorable Mention awards and an Audience Choice Award during the live stream!
Silents Roar! is produced by Wharton Studio Museum, a local nonprofit committed to preserving and celebrating Ithaca's role in early American filmmaking, and to developing the historic Wharton Studio building in Stewart Park into the Wharton Studio Museum and Park Center.
The festival is the brainchild of Fiona Okumu when she was a senior at Ithaca High School in 2016. Okumu is currently attending Ithaca College, where she is majoring in Writing for Film, TV, and Emerging Media.
Okumu's vision was to create a forum that would give youth an opportunity to explore their interest in film as an art form or career, by telling stories with themes that are relevant to them.
"I only found out about Ithaca's silent movie history when I was a junior in high school," Okumu said. "I then contacted Mayor Myrick, and, at his suggestion, got in touch with Diana Riesman at Wharton Studio Museum, and told her about my idea for a silent film festival that would pay homage to the Wharton, Inc. Studio."
The Roy H. Park School of Communications has graciously supported Silents Roar! as Presenting Sponsor since 2019.
v16i23