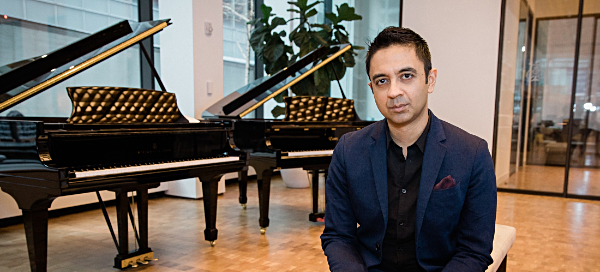 Composer-pianist Vijay Iyer has carved out a unique path as an influential, prolific, shape-shifting presence in modern music. He was described by Pitchfork as "one of the best in the world at what he does," by the Los Angeles Weekly as "a boundless and deeply important young star," by the New York Times as a "social conscience, multimedia collaborator, system builder, rhapsodist, historical thinker and multicultural gateway," and by Minnesota Public Radio as "an American treasure." A musical innovator, an active collaborator, and a member of multiple artistic communities, Iyer continues to reimagine the role of the musician in the 21st century.
For
his episode on the Cornell Concert Series
Fall 2020 Season, Iyer performs some of his own compositions, which draw from a variety of sources- including African American improvisational traditions, his own Indian heritage, and the Western classical canon. Iyer also answers student questions about his upcoming collaborations, and non-piano influences on his compositions.
PROGRAM
Proximity + Children of Flint
Where I Am
Taking Flight + Wrens
One For Blount + Crown Thy Good
The concert is viewable through next Tuesday, October 27th.
v16i42