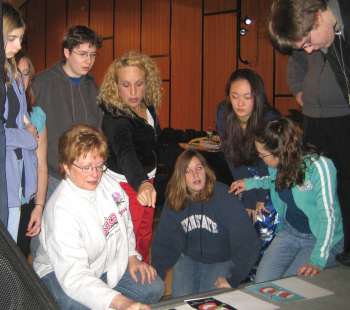 Director Howell (lower left) and Choreographer Fazio (standing) and some of the cast ponder posters.
While many people were away for the Presidents Day school break, the cast and crew were hard at work rehearsing, building sets and costumes and hanging lights. "Seussical is definitely different than anything we've done before," says director Cindy Howell. "The show doesn't really have acts. It goes from one story to the next. predominantly 'The Cat in the Hat,' 'Horton Hears a Who,' 'McElligot's Pool.' "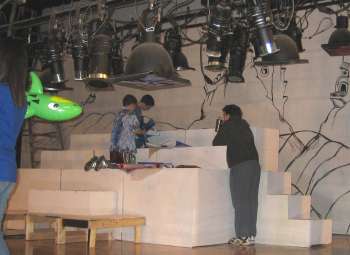 Hanging lights
"It's a fun show," says Howell, "but as an adult it's much different if you really understand Dr. Seuss and the fact that he started out as a biting satirical writer." She says that a lot of the stories are commentaries on the world. "You can't help but place it in our world today, with commercialism taking over the rain forest."
The cast is smaller than usual due to an unusual number of broken bones, illnesses and injuries keeping kids from participating. None of the injuries were because of the show. "It's been one thing after another!" Howell exclaims. "Every day I come to rehearsal thinking I hope everybody shows up in one piece." She adds that Will Opperman will be in the show even though he broke his arm in three places.
The cast is working 11 hours a day to take advantage of the limited time professional choreographer Sarah Fazio can be here. Fazio, a New York City based artist, was a Lansing student in Kindergarten and first grade, then moved to the Ithaca schools when redistricting occurred. "She ended up on the wrong side of the road," laughs Howell.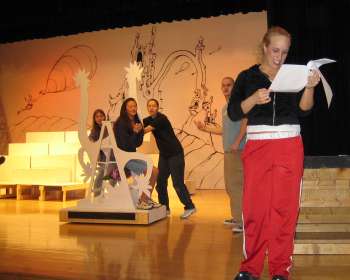 Sarah Fazio
"The year we did 'Crazy For You' Michelle Whitty really wanted to do that show. I had seen it in New York and I said, 'I don't have a choreographer that would even attempt to teach kids to dance like this.' She said, 'If I can get you a choreographer will you do it?'" She convinced Fazio to do it, and the choreographer has returned each year since, donating a week to the Lansing Musical. This year she is donating two weeks. "I feel really fortunate to have her," Howell says. "It's called 'Seussical the Musical' but it's as close to a 'Dancical' as you can get.
While Howell is the Seusical Director, Lorainne Adams (who replaced Howell when she retired) is the Musical Director. Tyler Hallett is the stage manager. "Tilly Garnett has been wonderful in her creation of all kinds of crazy props," Howell says. "It's a show full of strange and odd things." Doug McEver and Drew Watson are doing the sets. Janice Streb is handling the food.
Cindy Howell
Howell prepared by viewing a High School production in Skaneateles last Fall. She has also seen the Broadway production. "It's a good play for the group that we have," she says.
Tickets are on sale at the High School office. Performances will be in Lansing Middle School Auditorium Wednesday (3/8) and Thursday (3/9) start at 6:30pm and Friday (3/10) and Saturday (3/11) at 7:30pm. Senior Citizens night will be Tuesday at 6:30pm. All tickets are $5.
----
v2i8
"Seussical The Musical" is about the power of imagination and belief in yourself. Lansing High School's musical will be familiar and wondrous, as the boy Jojo (played by a girl, Keelin Davis), son of Mr. and Mrs. Mayor of Whoville, is propelled through Theodore Seuss Geisel's beloved stories. The show features the Cat in the Hat (Andy Mowson), the Jungle of Nool, the Sour Kangaroos and the Wickersham Brothers, the earnest elephant Horton and a school of colorful fish.