By

Dan Veaner

News

Print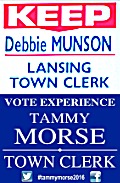 The Lansing Town Clerk race took a nasty turn this week when nearly 25 campaign signs were stolen or vandalized. Tammy Morse said her yard signs were stolen Monday, and Debbie Munson reported several yard signs were taken Tuesday. Additionally two of Munson's large signs were vandalized. Supporters from both parties expressed outrage that any candidate's signs had been removed or ruined.
Both candidates said they are upset that people were taking or damaging either candidate's signs. Both Morse and Munson stressed the acts were not coming from their campaigns.
Lansing Supervisor Ed LaVigne posted on Facebook Wednesday, "Many signs stolen. Lansing deserves better."
Munson is the current Lansing Town Clerk. She served as Deputy Clerk to Debbie Crandall, then was appointed to the Clerk position last April when Crandall retired a few months after being reelected. Morse is currently the Trumansburg Village Clerk. Both are Lansing residents.
Morse said Wednesday that most of her five stolen signs were taken from yards along Brickyard Road. She said that they were quickly replaced the next day. Morse posted on her Facebook page Wednesday that she wants no part of such tactics, and encouraged supporters to "keep it classy."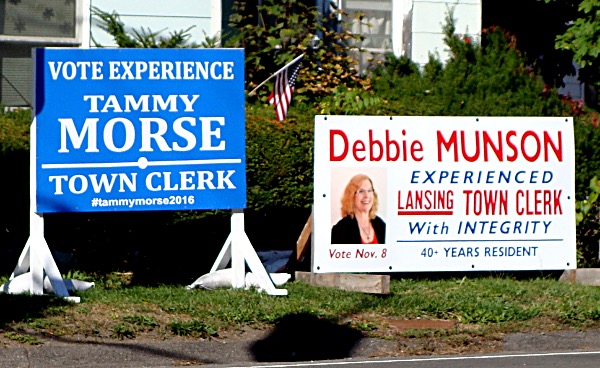 The damage was more severe on the Munson side. Munson said Thursday it will cost nearly $450 to replace the stolen and damaged signs. 17 yard signs that Munson knows of were stolen Tuesday night. They were taken from yards along Auburn, Triphammer, and Drake Roads. Additionally, two large Munson signs were removed leaving empty frames on the corners of Triphammer Road and 34B, and Warren and Asbury Roads. The Tompkins County Sheriff has been notified.
Munson said Thursday that her stolen signs will be replaced, but she has to wait for new ones to be printed because all 100 of the yard signs she had were already placed.
All signs from both campaigns were placed with the permission of the property owners. Stealing or damaging campaign signs is a crime that can result in charges of theft, damage to property, and trespassing.
v12i38