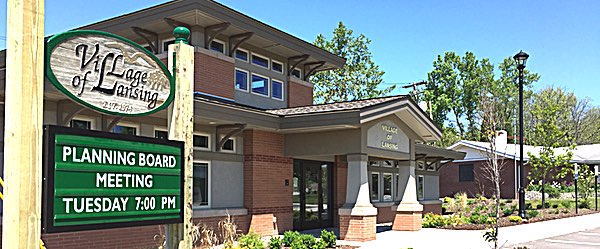 Current Village of Lansing zoning law has two short sentences defining a 'household'. Village Trustees considered an expanded version Monday they hope will remedy code violations in which too many people occupy a dwelling unit. The new section, over two pages long, mirrors a similar law in the Town of Ithaca that lays out a more specific definition.
"There's at least one single family house in the Village that has more people than you'd expect in a single family home," said Mayor Donald Hartill. "There are probably another couple of cases that I've heard rumors about. One of the things that we've been doing is to try to understand how we can address this problem."
Current law defines a household as "An individual, or two or more persons of recognized family relationship, occupying a dwelling unit on a nontransient (monthly or longer) basis. Two additional unrelated individuals may be included as part of a household."
"That's common language from way, way back when," said Village Attorney David Dubow. "A number of communities and municipalities over the last 10 or 15 years have gotten a sense that there needs to be more of a description, because the family has changed as a result of a number of factors. It hasn't worked as well as it had when it was much simpler."
A similar section of the new law reads, "An individual, or two or more persons of recognized family relationship, occupying a single dwelling unit, related by blood, marriage, or legal adoption, living and cooking together as a single housekeeping unit, or two unrelated persons (with or without children), occupying a single dwelling unit, living and cooking together as a single housekeeping unit."
The law assigns adjudication of what a household is in individual cases to the Board of Zoning Appeals (BZA). If three unrelated room mates wanted to share a dwelling unit they would be required to go before the BZA to make their case. The Board would consider whether the group resembles a 'traditional family unit', although this potential law and all existing Village law does not define what a traditional family unit is. They would favor a group that is permanent, as opposed to transient or seasonal. Sharing expenses and meals; enrolling children in local schools; using the address for official purposes such as driver's license, voter registration or tax forms; and local employment would all be considered in determining whether the group could be considered to resemble a traditional family.
"It dovetails with what has happened in the town of Ithaca," Hartill said. "The short bottom line is that it's a set of criteria, and the Board of Zoning Appeals will adjudicate whether this criteria have been satisfied. That takes it our of the political arena and makes it a fairly clear definition."
If the new law is passed the first bastion of enforcement would be the Village Code Enforcement Officer, though he could request assistance from the County Sheriff if needed. Part of the purpose of the law is to keep the problem of a group determined not to be similar to a traditional family out of the courts. If the dwelling unit is a rental unit the owner would be responsible for enforcing the law, and would be subject to penalties outlined elsewhere in Village law if he or she did not comply. Dubow said that if passed, existing violations would not be grandfathered under the old law, meaning that landlords would be required to renegotiate leases.
"The owner has the ultimate obligation to have anybody in that house complaint with the code restrictions," he said. "Theoretically the owner of that property would have to potentially look at their agreements and make sure that they incorporate what their obligations would be if they do something that is not consistent with the Village's code provisions. Their leases should reflect that according."
Hartill pointed out that the trigger for enforcing this portion of zoning law is a complaint from a neighbor. He said it would have to be a formal, signed complaint submitted to the Codes Enforcement Officer, who would then determine whether there is, indeed a violation. If so, a written letter explaining the violation would be sent to the owner, who could then appeal to the BZA or remedy the violation by changing the population of the dwelling to comply.
While Dubow said there is no hurry to update the law, he noted that it is better to do it when there are only one or two infractions to be remedied.
"We don't have that many people (in violation) so that's why I think doing it at this time is the right thing to do, because we don't have the problem at a higher level," he said. "We want to do it pro-actively so we don't end up with ten of those, as opposed to the one or two that may be non-compliant right now. My understanding is that there are one or two locations that may be code non-compliant. Some of that has been identified from other property owners in that general area. I don't think it's a life or death situation, but it's been something that has been a problem over an extended period of time."
Trustees acknowledged that modern definitions of 'traditional family unit' continue to change.
"There is definitely a time down the road where we may have to adapt some of our definitions," said Deputy mayor Ronny Hardaway. "That's the living nature of the definition of family."
All the trustees agreed they want to enact the law. Hartill said BZA members had not been notified of what will be a new role. He said he would communicate with them this week. A public hearing, required before passing new laws, is to be set for July 17th.
v13i23