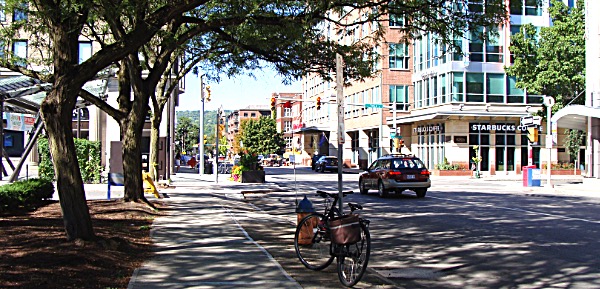 Three days before ride-hailing services, such as Uber and Lyft, will be authorized to operate in Upstate New York, the Legislature's special Transportation Committee today entertained a wide-ranging discussion of the issue, hearing both positive and negative comment on how the entry of such transportation services could affect those in Tompkins County.
Such ride-hailing services are already permitted in New York City, and newly-approved State legislation authorizes them to expand operations to the rest of the state as of June 29th. Counties, such as Tompkins, with population of 100,000 or more may opt-out of permitting such services, but cannot impose additional regulation or fees, beyond what is imposed by the State. No time limit is specified for a local decision to opt-out.
During nearly a half-hour of public comment, the committee heard from ten speakers. Four were employees of Ithaca Dispatch, the largest provider of taxi services in the county, who stressed the safe, vetted, and locally committed service from existing operators, something they maintained cannot be assured from Uber or Lyft.
"Let's think about the public, not convenience," one said. "See what you can do to support what is local," urged another.
Other speakers, however, spoke in support of ride-sharing services, among them Chamber of Commerce Vice President Peggy Coleman, who directs the Ithaca-Tompkins Convention and Visitors Bureau. Lack of such services, she said, places the county at a competitive disadvantage. Others, including representatives of two local lodging establishments and a college admission office, related instances of poor service involving the visiting public, and maintained that timely, reliable transportation is badly needed.
Cornell University Professor Of History And Labor Louis Hyman says that Uber and Lyft's new presence in New York State - much like the advent of industrial jobs in the 19th century - is disrupting, but also expands the opportunities for workers and consumers.
"Uber and Lyft will create more than destroy transportation jobs and will help New Yorkers have more reliable means to get around, Hyman says. "We should not think of this development as the coming of Uber and Lyft but rather as the expansion of the on-demand digital economy. These particular companies are only two of a vast world of new kinds of work that Upstate New Yorkers will be encountering over the next few years. They will disrupt assumptions about what work is, and where it will take place, but at the same time, will create new opportunities."
John Kadar, principal owner of Ithaca Dispatch, and Paul Kriegstein, of the county's other major taxi provider, Collegetown Cabs, both addressed the committee. Kadar asked that the County provide some "breathing space" for his business by opting-out, maintaining that Uber and Lyft have entered other markets with a "predatory pricing blitz" to undercut local providers. And he asked that current operators be allowed to operate what he called larger "auxiliary vehicles" to deal with demand. Kriegstein described the State legislation as "clearly designed to benefit the behemoths of the industry," which, in part, essentially prevents firms like his from sharing the services' pool of drivers. "It will be a true assault on our business," he said.
Airport Director Mike Hall told the committee that there is "a chronic ground transportation challenge" at the Airport," and that he favors anything that can be done to expand ground transportation capabilities.
The County does not regulate taxi services, authority that rests with the City of Ithaca, with some limited regulation also in the Town. Ithaca City Clerk Julie Holcomb told the committee that she serves as the liaison between taxi services and the City's Common Council. She said she believes the City wants to find a balance regarding services that would support both local companies and transportation alternatives, and that she would welcome discussions toward a potential collaborative approach.
Legislator Jim Dennis and committee Vice Chair Dave McKenna both suggested giving the matter a few months' trial period to see what happens once ride-hailing services enter the market and to assess any issues that arise. Legislators Dooley Kiefer (who is not a member of the committee), said "the idea of taking a pause is best," but that that should happen before the other services enter the market—something others pointed out can't feasibly be done before the authorization takes effect later this week. Legislator Will Burbank (also not a member of the committee) said that, while such services can't be stopped at this point, the Legislature should send a message that it will take a comprehensive look at the issue as soon as possible.
v13i25