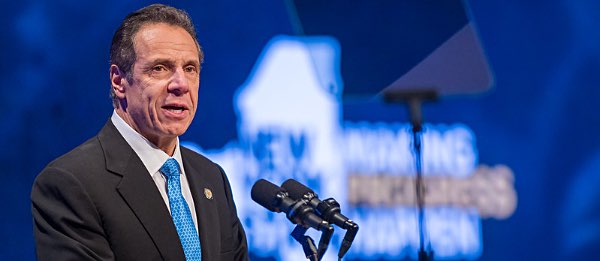 Governor Andrew Cuomo delivered his State of the State address in Albany Wednesday, outlining more than 30 initiatives he wants to accomplish in 2020 to make New York the 'progressive capital of the nation'. Proposals include instituting a domestic terrorism law; 'restore mother nature' bond act; legalizing cannabis; expanded excelsior free college tuition; paid sick leave & fighting child poverty; achieving 100% statewide cell phone service; protecting gig economy workers; addressing veteran homelessness & suicides; 'nothing to hide' tax returns disclosure; empire station complex; and reimagining the erie canal, among other goals.
"Our ship of state is stronger than it has been in decades, but the ocean we navigate is as tempest tossed as we have seen. Waves of anxiety, injustice and frustration are being fanned by winds of anger and division, creating a political and social superstorm, but these are the times when New York is called upon to show leadership and set a course for a troubled nation," Cuomo said.
But faced with a $6billion deficit, Cuomo will find his agressive agenda challenging. Comptroller Thomas P. Dinapoli issued a statement Wednesday supporting the Governor's "ambitious proposals", contrasting them to "the gridlock we are witnessing in Washington." But he acknowledged that they will be expensive.
"The focus now turns to how the state will pay for these proposals and the Executive budget will be released soon. There are tough decisions to be made to balance the budget while addressing the growing costs and cracks in the Medicaid program. We mustn't push these challenges off to future years. We need long-term solutions."

View the full State of the Stae Address
Lansing's State Senator Pam Helming issued a statement criticizing Cuomo's recent criminal justice reforms, and the cost of his policies to upstate New Yorkers.
"Today the Governor had the opportunity to build hope for New Yorkers by fixing what's destroying our state: high taxes, crushing regulations and a broken criminal justice system. Instead, he took this as an opportunity to point fingers. He is making it a priority to ban repeat sex offenders from public transportation, but offered no solution to fix his broken bail reforms that are putting rapists and murderers back on the streets. I agree with the Governor that the middle class is the 'backbone' of our state, but unfortunately, his policies are making them U-Haul's best customers. New York City leaders treat upstate taxpayers like an unlimited ATM and this has to change if we are going to turn New York around and stop the exodus of people, jobs and opportunity to other states," said Senator Pam Helming.
Cuomo finished his address with a strong indictment of recent hate crimes against any New Yorkers, saying that an attack against any New Yorker is an attack against all New Yorkers.
"New York is the progressive capital of the nation and we must fulfill that destiny again this year," Cuomo said. "Working together, we have achieved the best progressive state government in the nation. We have accomplished more together than we could have imagined and now we must do even more. Our current challenges are daunting - but it is nothing New York can't handle. This year we will continue to address the issues causing anxiety and frustration with an agenda that fosters economic growth and social progress, proposes a nation-leading response to climate change and keeps New Yorkers safe. This is a robust agenda - but we can do all of this. Our state government has accomplished the impossible - over and over again and we will do it again this year."
v16i2