$4.3 million in federal funding is being made available to county emergency management agencies and the City of New York to support COVID-19 planning and operational readiness, including $22,203 to Tompkins County. This grant opportunity will provide an additional level of direct support to counties as New York, and the rest of the world, continues to grapple with the ongoing COVID-19 pandemic. Eligible recipients will be able to utilize this funding to cover various emergency management-related costs already borne during the pandemic, as well as costs associated with local prevention and operational efforts moving forward.
"As the COVID-19 Pandemic continues to threaten the health and safety of people around the world, New York continues to be the model for effectively responding to this crisis and controlling infection levels despite the financial toll it has taken on state and local governments," NYS Governor Andrew M. Cuomo said. "While this funding is a first step in providing local governments with much needed relief, this situation is far from over and I will keep fighting to ensure the federal government is providing real financial support to those who have been on the front lines since Day One."
As part of FEMA's Emergency Management Performance Grant program, this COVID-19 Supplemental will provide recipients with funding to cover costs associated with COVID-19-related planning, training, travel, support from consultants or contractors, equipment purchases, and facility construction and maintenance. Funding allocations are derived from a population-based formula and require a 1:1 cost match from each recipient.
Funding availabilities for each eligible jurisdiction are as follows: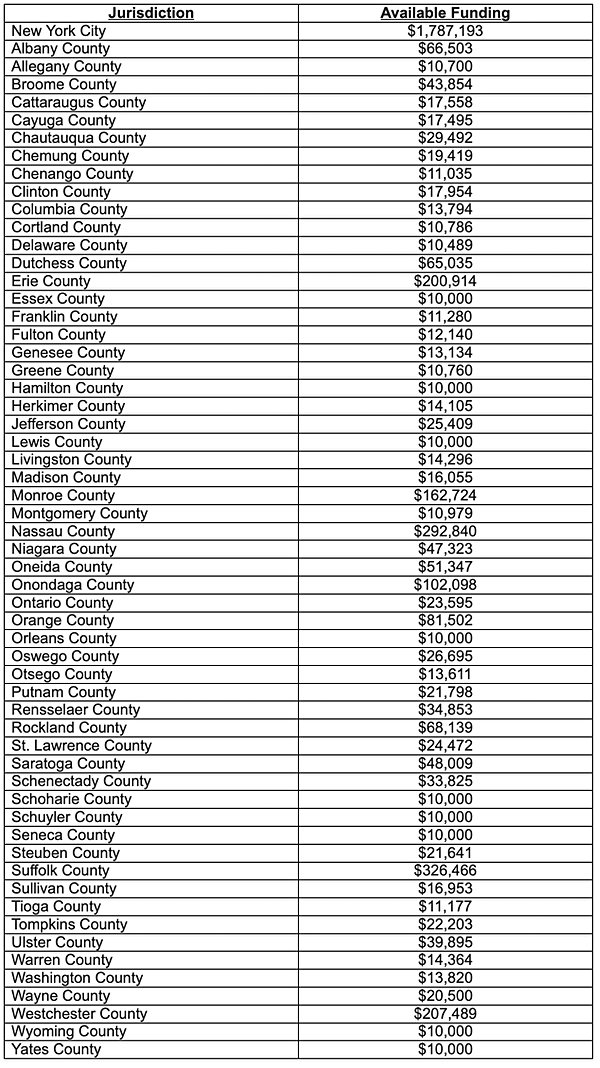 The New York State Division of Homeland Security and Emergency Services will administer this funding on behalf of FEMA. DHSES will be in contact with each jurisdiction's emergency management office directly to not only ensure all guidance and application documents are in hand, but also to assist with the application process and provide additional information as necessary.
New York State Homeland Security and Emergency Services Commissioner Patrick A. Murphy said, "Throughout the COVID-19 Pandemic, first responders and emergency management experts from throughout the state have worked tirelessly to keep their communities safe. Despite the situation improving on a number of fronts, we must collectively remain vigilant as this very real public health threat still remains. This funding will play an important role in this effort by providing our local partners with the resources they need to not only support ongoing operations, but plan and train for the future as well."
Ineligible costs include:
Anything unrelated to COVID-19 planning, prevention, or response;
Activities and projects unrelated to the completion and implementation of this Emergency Management Performance Grant COVID-19 Supplemental;
Costs to support hiring sworn public safety officers for the purposes of fulfilling traditional public safety duties; or
Costs already paid for with funding from FEMA's Public Assistance Program or any other federal program.
The performance period for this grant is from January 27, 2020 through July 31, 2021.
v16i28