By

Dan Veaner

News

Print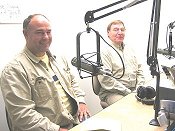 A lot was on Lansing's plate in the Village, Town, and School District including elections, especially for School Board and Town Supervisor, and two votes on whether Lansing wants a public library. We saw yet another Superintendent of Schools go, and still another hired to begin next year. Here is the run down on some of the top Lansing news stories of 2007:
Village of Lansing
Triphammer Road was the big story in the Village of Lansing, with a major makeover that brought seven lanes, bicycle lanes, and street lights to one of the county's premier shopping areas. The Shops at Ithaca Mall made news last month when it presented plans for an outdoor shopping component that may include up to 42 apartments above the boutique-style shops.
Meanwhile the Village tried to put a deer population control plan, but was unable to come to terms with the owner of the one piece of land in the Village that is large enough to hold an effective hunt. They made changes in Village law and put the program in place anyway, and plan to have a controlled hunt in next year's hunting season.
Both the Village and Town of Lansing have been struggling with state storm water mandates this year, using scarce resources to meet unfunded mandates. The Town will barely meet the January 8th deadline for having both storm water and illicit discharge local laws on the books. The Village is behind -- their storm water law should make the deadline, but they, like many small municipalities around the state, will be late crafting their illicit discharge law.
Town of Lansing
The big story here was the sewer, and even though Lansing's sewer initiative was officially killed on July 6th, it keeps coming back like... well a backed up sewer! Suspicious residents see sewer behind every initiative including the State mandated illicit discharge law. That probably cost Supervisor Steve Farkas his position when he lost by 23 votes to Scott Pinney in last month's election.
Less known is a Lansing sewer that is almost certain to happen, when a sewer is constructed from the Village of Lansing's system up to the Warren Road Industrial Park. Part of an Empire Zone, the initial study was paid for by Transonic Systems, which needs the sewer to grow its business.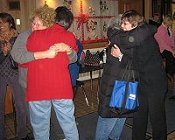 The Lansing Library was the comeback kid this year. Voters agreed to fund the library in a 65 vote win a few weeks ago, after it was defeated by only 32 votes in May.
One of the most read stories of this year was one we did when the Watchtower Society sent representatives to outline a potential plan for developing Kingdom Farm, a 500 acre plot they had targeted to house the manufacturing facility of Watchtower magazine. After locating that elsewhere they now want to sell the land, proposing mixed development that could include large single-family lots in the north and smaller homes, business and retail space in the southern part. In a town with a population of 10,500 at the last census that adds about 30 homes per year, the planning board was not enthusiastic about a development that could add 500+ residences. Stay tuned.
School District
Lansing's school district suffered a year of woes ranging from losing another superintendent of schools to money problems, crumbling buildings, and a failed capital project.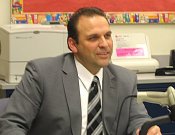 On top of all that, the beginning of February say 188 students out sick from Lansing Middle School, close to half the student population. With illnesses in the other schools as well and emergency closing day was declared for a long weekend to help students recover.
A controversial school board election yielded surprises when last-minute candidate Mike Cheatham unseated Christine Iacobucci in an intense one-week campaign. But a week before the election Superintendent Mark Lewis announced he would be resigning effective August 31. Not long after that Business Administrator Larry Lawrence announced he would be leaving at the same time. And Director of Curriculum Deb Pichette resigned in June, leaving the top district positions vacant again after a half dozen years of a revolving door in the Superintendent's office.
New Superintendent Stephen Grimm will be starting on January 2nd. Pichette's position was revamped, but because of a possible $300,000 overspending projection for this year hiring that position has been put on hold. The Business Administrator slot had been filled, but the candidate did not accept the position, so the school board will be looking for new candidates again after New Year.
----
v3i49