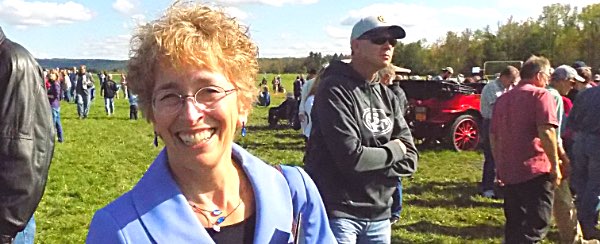 The Tompkins County Legislature, in its annual reorganization meeting, elected Martha Robertson (D) for another year as Chair of the Legislature in 2019, and Shawna Black (D) as Vice Chair. The positions of Chair and Vice Chair are filled each year by majority vote of members of the Legislature. Making the nomination for Chair, Legislator Deborah Dawson observed that over the past year she served with Robertson in many capacities and has seen her in action in many different situations and venues.
"In my experience, no one on this Legislature is better informed or more hard-working," Dawson said. "When Tompkins County needs something, Martha looks to how to make it happen…She has proven herself to be tireless, relentless, and indomitable to serve Tompkins County. We all benefit from her hard work."
There were no other nominations, and Robertson was elected in a 12-0 vote. (Legislator Henry Granison was excused from the meeting and Legislator Dan Klein was out of the room and did not vote.) "I deeply appreciate the honor. I deeply appreciate your support and look forward to working toward those very fine words," Chair Robertson said.
Robertson has served on the Legislature since 2002, representing District 13 (Western part of the Town of Dryden), and is returning for a sixth one-year term as Chair of the Legislature. In addition to serving as Chair during 2018, Robertson previous held the position from 2010 to 2013. Martha has chaired numerous committees of the Legislature over the years, and during 2018 also served as Chair of the Legislature's new special Housing Committee.
Dawson also nominated Shawna Black for Vice Chair, who was elected by a 13-0 vote (with Legislator Granison excused.) Dawson praised Black's good humor, people skills, and huge heart, as well as her impressive managerial and administrative skill and extensive hands- on experience in the county's non-profit sector, and noted that, as chair of the Health and Human Services Committee, she was the only freshman legislator to have chaired a committee in 2018, and did an excellent job.
"She's earned the opportunity to expand her leadership role to the full Legislature, and to learn from that experience. We will all benefit from giving her that opportunity," Dawson said.
Black joined the Legislature in 2017 and is beginning the second year of her first full term on the Legislature, representing District 11 (Northeast area of the Town of Ithaca.) As well as chairing the Health and Human Services Committee, Legislator Black during 2018 served on the Public Safety Committee and special Transportation Committee.
"It's a distinct pleasure to serve with this Legislature and my 13 dedicated and committed colleagues," Black said.
In remarks following the election, Legislator Michael Lane also thanked outgoing Legislature Vice Chair Anna Kelles for her service during 2018.
"No one works harder or has put in more time than Anna," Mr. Lane said.
v15i1