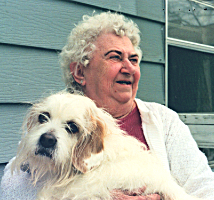 Anna R. Watson of Montgomery, NY, passed away peacefully Saturday, February 1, 2020, at Orange Regional Medical Center in Middletown, NY. She was 94.
A daughter of the late Vincent Hradisky & Cecelia Burin Hradisky, she was born Sunday, April 5, 1925 in Myers, New York. Anna lived most of her life in Myers and on Beach Road in Lansing, NY. She worked at NCR in Ithaca for over 20 years. In retirement, Anna enjoyed watching Westerns and spending time with her family and her dogs- the late Buster, and Spotty. Anna will forever be remembered for her sense of humor, feisty personality and generous heart. She was the widow of the late Guido Garcia of Panama City, Panama.
Anna is survived by her daughter Yvette "Vicky" (Dan) Alfreds of Crestview, FL; and three of her sons: Richard (Patti) Garcia of Moultrie, GA; Charlie (Donna) Garcia of Montgomery, NY; and William "Billy" (Nohemi) Garcia of Egg Harbor Township, NJ. She also leaves behind 11 grandchildren, and 13 great-grandchildren. Anna was predeceased by her son James "Jim" Garcia, brother Joseph (Gertrude "Gertie") Hradisky, and sister Mary Agnes Hradisky Waite. There will be no calling hours or services. A Celebration of Anna's life will take place at Myers Park in Lansing, NY in August.
Contributions can be made in Anna's honor to your local animal shelter. Arrangements made by Millspaugh Funeral Directors. Online condolences may be left at
millspaughfuneralhome.com
or on Anna's Facebook page.