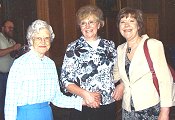 ITHACA – Mary E. Coolbaugh, age 84 of Ithaca, died Thursday afternoon at Cayuga Medical Center. Mary was born in Wappinger Falls, a daughter of the late Frank and Grace Delario.
Mary worked side-by-side with Charlie on the farm through the years. She enjoyed canning and feeding the wildlife on her property; A true lover of animals. She retired from Cornell University after 32 years as a custodian.
Survivors include her life companion of 54 years, Charlie Havlik; two sons, Clair D. (Brenda) Coolbaugh and Eugene R. (Flora) Coolbaugh; three daughters, Phyllis (Jack) Paveling, Grace E. (David) Henwood, and Donna L. (Edward J.) Moore III; nine grandchildren, Mark Switzer, Jeffrey Switzer, Randy Coolbaugh, Georgette Rosberg, Terrie Crance, Michelle Strantz, Susan Bowman, Heidi Hackett, and Heather Snyder, and 12 great-grandchildren.
Friends and family may call on Sunday from 12 Noon until time of 2:00 p.m. Funeral Service at the Herson Funeral Home, located at the Family Service Center, 110 S. Geneva St, Ithaca. Burial will be on Monday at 10:00 a.m. at Woodlawn Cemetery in Newfield. If desired, Memorials may be made to the SPCA of Tompkins County, 1640 Hanshaw Road, Ithaca.