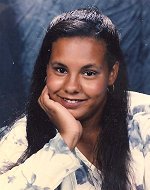 Newfield - Kenna R. Lindsey, age 28, of Newfield passed away unexpectedly on December 6, 2009. She was born in Ithaca on August 15, 1981, a daughter of Dawn Wood and Oscar Nicken. She graduated in 1999 from Newfield High School. While attending high school, she formed a great love for cheerleading. She is also a member of V.I.C.A. Kenna attended TC3 and enjoyed keeping in touch with her friends via Facebook and Myspace. Kenna's life revolved around her four children; her bright smile will be missed by all who knew her.
Survivers include her four children, Fatima Renee Smith, Paris Monet Smith, London Nyasiah Smith and Nazir Jerome Smith; her mother, Dawn Wood and her father, Oscar Nickens; several aunts, uncles, and cousins.
Friends and family may call Thursday from 10 a.m. until time of 12 Noon Going Home Service at the Herson Funeral Home, 110 S. Geneva Street, Ithaca. Burial will follow in Evergreen Cemetery in Spencer. If desired, memorials may be made c/o the Children of Kenna R. Lindsey, at the Tioga State Bank, 183 Main Street, Newfield, NY 14867.