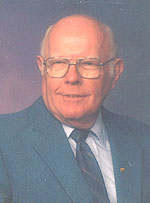 William Francis Kelly, age 80 of Ithaca and a former Lansing resident, died Monday afternoon, November 29, 2010 at Hospicare, in Ithaca. Born on December 19, 1929 he was the son of the late William M. and Frances Kelly. Prior to his retirement, he and his wife, Helen, owned and operated B. Kelly and Sons Carpet Cleaning Interiors in Lansing. Mr. Kelly was the past president and actively involved in the Ithaca Kiwanis Club. He was a lifetime Soldier in the Salvation Army and was a member of the brass band and the songsters. He will always be remembered for his jovial sense of humor and his outgoing personality.
Survivors include his two sons, John Kelly and David (Lori) Kelly; two daughters, Karen Baril and Susan (Kenneth) Scharke; 10 grandchildren, 2 great-grandchildren, and 5 step-grandchildren; a sister, Esther Mitchell; a sister in-law, Lois Kelly and many nieces and nephews. He is predeceased in death by his wife, Helen Kelly who died on June 18, 2006; two brothers, Albert and Harry Kelly; a sister, Myrtle Utter.
Friends and family may call on Wednesday from 6 to 8 pm at the Herson Funeral Home, Ithaca and at 1 pm on Thursday December 2, 2010 at the Salvation Army, 150 N. Albany Street, Ithaca. Funeral Service will follow at 2:00 pm at the Salvation Army. Burial will be immediately afterwards in the Lansingville Cemetery, Lansingville. If desired, memorials may be made to the Human Enrichment Program at the Salvation Army.