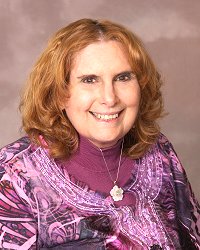 Barbara K. White, of Auburn Rd., Lansing, NY, passed away Monday, April 4, 2011, at the age of 57.
Born July 28, 1953, in Ithaca, she was the daughter of the late F. Wilbur and Hilda (Phippen) Wilson. After graduating from Lansing High School, Barb went on to earn an Associates degree from Paul Smith's College. She was employed for many years as a secretary with the Lansing Public School System. Active in her community, she was a member of the Lansing United Methodist Church, where she participated in the church choir as well as the Bells Angels Bell Choir. She was also a member of the Lansing Lions Club, the Lansing Theatre and Performing Arts, and was one of the founding members of the reorganized Lansing Community Council where she was instrumental in the creation of the Harbor Festival.
Barb loved to sing and work with her crafts, especially crocheting and she was eagerly awaiting the birth of her first grandchild due in September.
She is survived by her daughter, Carrie (Kristopher) Fry of Virginia Beach, VA; brother, Bill Wilson of Lansing; half brother, John (Carol) Wilson of Ithaca; Aunt, Frieda Wilson of Lansing, and numerous cousins.
In addition to her parents, Barb was preceded in death by her son, Christopher Ryan Michielen and her husband, Joseph P. White.
A memorial service, officiated by Pastor Jane Sautter, will begin at 6pm, Wednesday, April 6, 2011, at Lansing United Methodist Church.
Please consider a contribution in Barb's memory to Lansing United Methodist Church, 32 Brickyard Rd., Lansing, NY 14882, or Lansing Lions Club, PO Box 82, Lansing, NY 14882.
Lansing Funeral Home is assisting the family.