Flags are flying. Fireworks are bursting in air. But that may mean New Yorkers like the hot dogs more than they care about their country. A new
Wallethub analysis
puts New York as the 46th most patriotic state, or for the glass half emptiers, the 5th least patriotic. Virginia ranked #1 in patriotism, while my home state of Massachusetts ranked last.
The study looks at military engagement (New York ranks 50, the very bottom), and civic engagement (25 out of 50) to determine a score. New York's score is 29.82. By Contrast, Virgnia scored 70.48, and Massachusetts 26.60. New York has the fewest number of veterans per capita of any other state, and the third lowest volunteer rate. In general red states ranked higher in patriotism than blue states.
Ironically, in a different analysis WalletHub ranks New York City as the number one best city in America to celebrate the 4th of July. (San Bernardino, CA has the worst ranking.) Even though our state ranks poorly with the second highest beer and wine prices, it is the #4 state with lowest 4th of July DUI fatalities per capita, ranks #1 in attractions and activities, and #2 in safety and accessibility.
A lot of people in Tompkins County are not shy about complaining bitterly about the Trump administration, bitterly arguing that Trump's America is not what the United States is supposed to stand for. WalletHub only listed the top and bottom five states in voter turnout. As the saying goes, "if you don't vote you get what you deserve," so I looked it up. With 52.4% voter turnout, New York scored 7th lowest. The national average was 58.1%. Minnesota had the highest voter turnout at 74.16%. Hawaii had the lowest turnout at 42.52%, though the island state ranked as the 7th most patriotic.
Lansing had slightly more voter turnout than the rest of New York State, but only very slightly better, with 53%. The City of Ithaca had 64% turnout, the Town of Ithaca did much better with 63%, Caroline had 59%, Danby 57%, Ulysses 56%, and Dryden 53%. Enfield, Groton, and Newfield had lower turnout than Lansing.
I don't have statistics but the volunteer rate in Lansing has to far exceed that of the state. It seems as if just about everyone in the town volunteers for something. Just look at the programs in the Lansing schools and Recreation Department programs, scouts, Lions Club, CDC, the Food Pantry, Community Council, Rotary, Friends of the Lansing Community Library, Friends of Salt Point... too many to list.
Of particular interest to Lansing, arguably the Capital of Chicken Barbecue, $371 million will be spent on chicken this 4th of July, just less than half of what Americans will spend on beef, according to
a WalletHub infographic
. $62 million will be spent on fully cooked chicken. I have always maintained that it is not good to be a chicken in our town. However, it is also true that the chicken is really good in our town. Nevertheless, Lansing chickens may be forgiven for lack of patriotism on the 4th every year. Or perhaps giving their lives for their country makes them more patriotic. The buck-buck-buck stops here.
The WalletHub analysis looked at 13 metrics. Active military enlistees received triple weight. The number of active military personnel and veterans and reservists were also factored into the 'military engagement' side of the equation. 2016 election voters, primary voters, volunteers, and requirements for civics education made up the 'civic engagement' side.
Waving a flag and displaying a bumper sticker don't necessarily make a person patriotic. Not serving in the military or volunteering don't automatically mean you are not patriotic. Living a life that exemplifies the values we share or aspire to as a nation does make patriots. These days it seems we need to focus more on aspirations, as our society has split philosophically and politically into such a deep crevasse it is hard to imagine how we'll ever climb out to re-form our one nation under God. One of the odd, but predictable side-effects of the 9/11 attack was that for a short time, at least, the two sides merged with a single purpose. Too bad it takes a terrorist massacre to make that happen. And sad that we can't seem to sustain it.
We need to work together to make our visions of freedom and justice a reality, and to help every American be as successful as they can be. Next Wednesday, July 4th, we will all have patriotism on our minds as we celebrate the heroes who brought us independence and were somehow able to agree on a constitution, despite the bitter and divisive politics that existed in 1776 (yes, there was a lot of disagreement). On that July 2nd the Continental Congress voted to become independent, and on that July 4th all 13 colonies shared values enough to adopt the Declaration of Independence.
A state's frequency of Google searches on the American Flag was worth a quarter weight. I just raised our score a bit by Googling it. One of the top search results quotes a PBS article that answers 'What the American flag stands for?' with, "The stripes represent the original 13 Colonies and the stars represent the 50 states of the Union. The colors of the flag are symbolic as well; red symbolizes hardiness and valor, white symbolizes purity and innocence, and blue represents vigilance, perseverance and justice."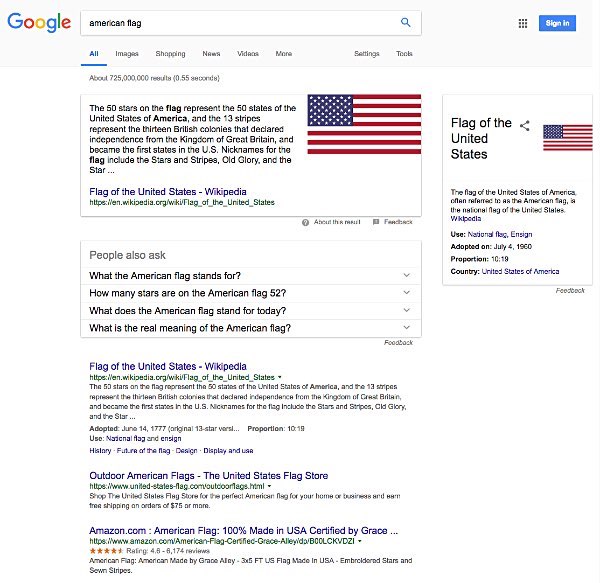 Those are the values we need to remember together, and that's the kind of patriotism we need to come back. The first time we got a country out of it. Now we need to make sure our country is still worth it.
v14i25