A banner commemorating Kyle Dake's wrestling achievements was unveiled Monday to a cheering crowd in the Lansing high School Gymnasium.  Dake was joined by family, coaches  and fans as current wrestling Assistant Coach John Kotmel read a tribute and showed a video commemorating Dake's high school and college career.
Dake is part of a wrestling dynasty at Lansing.  The wrestling program was started by social studies teacher Bob Dake 50 about years ago.  His son Doug coached the team, including his own sons Kyle and Corey.  Corey made it to States in 2012.  Kyle won the state championship twice under Doug's coaching, before earning his legendary record at Cornell.
Over his six years on the Lansing High School Varsity team, Kyle scored a 2017 and 13 record.  He was the first at Lansing to win an individual state wrestling title, and was a two-time state champion.  He was a three-time high school NCAA champion.  He was named the EIWA Wrestler of the Year, Team MVP, and First Team All-IVY.  He placed third in the Olympic trials prior to his senior year at Lansing.
"He did all this while being an honor role student," noted Kotmel.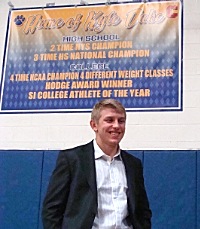 At Cornell University he became the first four time NCAA champion to win in four different weight classes, and was named the 2013 NCAA Outstanding Wrestler.   In his senior year he achieved a 37-0 record, and received many top honers including the 2013 Hodge trophy.  Dake was the 2013 Sports Illustrated College Athlete of the Year.  This month he was inducted into the EIWA Hall of Fame, and in the near future he has his eye on the Olympics gold.
"Most importantly he's still just a kid from Lansing," Kotmel said.  "He finds the time to come back and cheer our sports teams, and give back to the wrestling program.  We are proud to honor one of the greatest wrestlers of all time."
The Dake family was invited to pull a line, revealing the new banner.  Dake's name is also listed on a large banner listing all Lansing NYSPHSAA state champions.
v10i2