The Lansing Varsity Wrestling team took to the mats this past weekend at the Fourth Annual Groton Holiday Duals Tournament to test their skills against five other local schools. The Bobcat grapplers took the mat five times in the duals format and came away with an overall victorious team records of 3-2. It was an exciting day as the team began the tourney with a win over Marathon. They continued their run with impressive victories over Groton and Southern Cayuga to finish out the morning session. The afternoon proved more challenging for the Bobs as they registered their first loss of the day to overall tournament winner and undefeated, Cazenovia. The final dual brought with it some hard fought matches, and ended with a close loss to Moravia.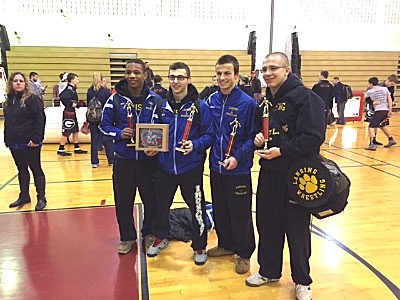 Overall, the relatively young team experienced great success with four individuals winning Most Outstanding Wrestler in each of their weight classes. These were seniors William Lewis, Greg Lee and Jimmy Overhiser, and junior Jared Sterling. Jimmy Overhiser was also awarded the Most Outstanding Wrestler plaque for the lower weights 99-145lbs.
The team heads to Windsor on December 29-30, 2014 for the challenging Windsor Christmas Tournament.
The Bobcats will return home to begin their duals schedule in the new year with home matches on Monday, January 12, 2015 against Groton and Marathon, and Wednesday, January 14, 2015 against Newark Valley and Dryden.
v10i48