Lansing High School senior athletes Ben Eisenhut and Max Jordan made it official Monday: Jordan signed to pole vault at Lehigh University in Bethlehem, Pennsylvania, and Eisenhut signed to join the Cross Country and Track and Field team at Canisius College in Buffalo, NY. Both athletes were joined by their families, coaches school administrators and teammates as they formally signed their acceptances.
"I'm really excited to be part of the Canisius program," Eisenhut said. "(Canisius Cross Country and Track and Field) Coach Huckle came up to me after I had a good race at the McQuaid Invitational. I was skeptical at first, but I had the greatest time when I visited. The guys were awesome, the coach was awesome and the school was awesome. It couldn't be a better fit. i am so excited to be part of an awesome team that has a lot of potential to do well in the future."
"I'm excited to go to Lehigh next year to pole vault," Jordan said. "I am thankful for my coaches and my team mates and my parents, especially when they pushed me. And my parents for always coming to my meets and supporting me. I'm really excited to keep going next year."
Jordan has competed on the varsity team since ninth grade. He began pole vaulting his freshman year. He earned a place competing in the state championships for indoor and outdoor track his sophomore and junior years. So far this year he also made states for indoor track. He also qualified to compete on the National level last year and this year. Jordan says Coach Matthew Scheffler asked him to join the team when he was in eight grade.
"I said no in my eighth grade year," Jordan says. "In ninth grade he asked me again and I said yes. We tried it out in gym class and he thought I had potential. It was fun. I played hockey in the winter in middle school, but I broke my hand in football, so I switched to track."
Eisenhut wasn't as reticent. He began running on the varsity team in seventh grade.
"I think my seventh grade and freshman years had the most impact on me. In my freshman year I was running with the seniors," he says. "They were mentors to me on how to train hard and work with the younger kids. That was the first experience I had ever had with track, so it was cool to be taken in by the coaches and teammates. I felt like I was going to be able to succeed here. And in my freshman year Cameron Bruce was a great training partner who taught me a lot about how to drive through when things aren't ideal."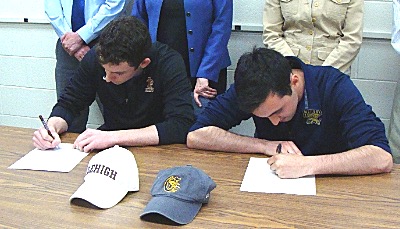 Both credit Coaches Scheffler and Rusty Landon for this new success.
"Without Coach Scheffler I wouldn't be pole vaulting in college," Jordan says. "He started me. I am confident that he is, if not the best, one of the best pole vault coaches in the state. I am very thankful."
"Coach Landon and Coach Scheffler have been so supportive with a hectic junior and senior year," adds Eisenhut.
"We're very proud of these guys," Scheffler says. "We've been very fortunate to have them in our program. It's been a great ride. They will do very well and the programs getting them are very lucky."
"Any time you have student athletes reach their potential, an extremely high potential when they compete at these great schools... it's not just sports related," says Lansing Athletic Director Adam Heck. "There's an academic piece, too. They are both really good schools. Our faculty is part of it as well. Our teachers have prepared these guys for the next level of demands college puts on you. The entire district is proud to see these guys move on."
v11i16