The Finger Lakes Regional Central Outlaw Squirt Hockey Team came home with a hard fought 2nd place finish in the International Silver Stick Qualifier. The team started off with a tough 1-2 loss to Rome-R but never gave up and moved onto get 3 shutout wins against Bethlehem, Troy-Albany Titans and Rome (W).
With those wins it was onto the Championship game for a rematch against Rome-R. The Outlaws jumped on the scoreboard first and never gave up keeping the pressure on throughout all 3 periods.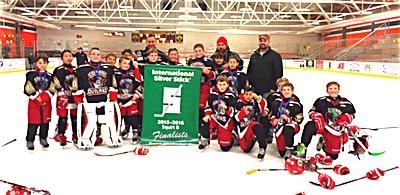 In the end Rome-R came away with the 5-3; however as Coach Jump said, "The boys played great all weekend. They fought hard till the final buzzer in the championship game. It would have been nice to take 1st place but it was just as nice to see them leave all there heart and effort on the ice."
v11i47