The Lansing Boys' basketball team is hitting their stride with JV at 11-2 and Varsity at 7-7 for the season. Of where they are in the season Varsity captain Zach Detrick says, "It's the little things, we're right there. If we make the strides we need to make coming up, we should be playing our best basketball come sectionals, which is the goal." The JV team has only lost two games this season and is currently on a 9 game winning streak. Scores include: Candor 46-20, Spencer Van-Etten 50-36, Watkins Glen 37-32, Groton 52-30, Dryden 55-34 and Whitney Point 35-34 and 43-42.
December was a busy month for both the JV and Varsity teams. After suffering a 40-55 loss to Whitney Point (class B) on 12/18/15, the Varsity players came to the next game against Trumansburg on 12/22/15 with only victory in their minds. Kareem Abdul-Jabbar said "You can't win unless you learn how to lose". It was clear the Varsity players learned a lesson and pulled together for their next win.
Josh Miller-LaBar scored his varsity career high of 37 points which is just 5 points shy of the Lansing school record during the "Blackout" game against Trumansburg on December 22nd. Captains, Miller-LaBar and Detrick took over in the 4th quarter combining for 20 points. Miller-LaBar had 12 and Detrick had 8 of his 22 points in the final quarter, with 6-for-7 from the free throw line sealing the win. Additional points were scored by Karsten Zuidema and Zack Walker. Miller-LaBar summed it up by saying, "My teammates were giving me great passes. It was just one of those nights when all the shots were falling". Trumansburg high scorers were Austin Grunder with 33 points (11-for-11 from the foul line); Hunter Ford contributed 13 and Jack English 11. Trumansburg Blue Raiders will next host Lansing on January 29th.
Their focus and winning streak continued going in to the school break games against Spencer Van-Etten and Candor. During the 54-46 win against Spencer Panthers Miller-LaBar led with 17 points, followed by Detrick with 15 and Zuidema with 10. Zack Walker and Chris Robinson contributed to the points. Spencer's Mark Newill led with 17 points followed by Garret Swayze with 11.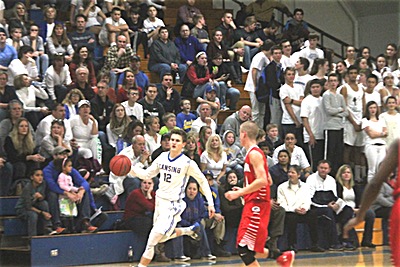 Zack Walker was on fire scoring 23 of the points in the 47-34 win against Candor. Of the game, the Junior said "The 23 points I scored in the Candor game are the most points I've ever scored during my Varsity basketball career, but I know that many more points can come with the help of my team." Miller-LaBar, Zuidema, Detrick, Tanner Winslow and Nate Fleishman rounded out the final score. Indians Steven Kern had 11 and Wyatt Whitmore 9.
Eric Eastman and Chris Robinson topped the score in the game against Watkins Glen in the first game for 2016. Despite these points and those scored by Tanner Winslow, Detrick, Miller-LaBar, Zuidema and Fleishman, it was not enough to sustain the win. Final score was 50-57. Watkins Senacas Justin Kelly was the high scorer with 20 and Max Schimizzi & Dominick Rolston each contributed 11 points.
Josh Miller-LaBar again topped the points with 21 against the next winning game for Lansing against Union Springs Wolves with 13 points. For the 54-51 final score, additional points were scored by Detrick with 13, Walker with 9, Eastman with 8 and Winslow and Fleishman contributing. For Union Springs, Ian Park had the most points with 13 followed closely by Cameron Anthony with 11. The Wolves will host Lansing next on February 2nd.
Zach Detrick topped the scoring with 18 points, followed by Zuidema with 10 points during the "White Out" game against Groton on Friday, January 8th. Among a strong fan presence, the Bobcats won 54-44 with Eastman, Miller-LaBar, Winslow, Walker, Fleishman, and Robinson helping to rack up additional points for the 54-44 Bobcat win. Zuidema also pulled down 8 rebounds and Miller-LaBar dished out 5 assists. It was a true team effort.
Last Friday's game at Dryden brought the Bobcats to a 2 point difference at half-time, but the Dryden Lions roared in the second half resulting in a 35-69 loss for Lansing and breaking their five game win streak. Miller-LaBar and Detrick topped the points for the night with 15 and 13 respectively. Eastman, Fleishman and Robinson added to the final score. Dryden's Trevor Gardner topped the points for with 17 followed by Ali Abel-Ferretti who added to more than 1,000 point career with 15 points.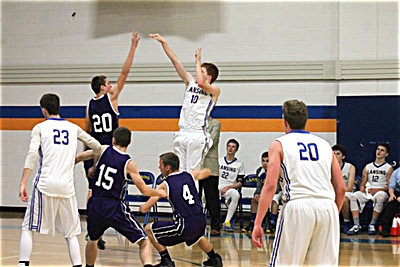 Tuesday night's game against Whitney Point ended in a 34-47 loss for Varsity, but the JV team won in overtime by 1 point. Varsity highest points were scored by Detrick and Miller-LaBar with 11 each with additional scores by Walker, Fleishman, Zuidema, Eastman and Winslow. Whitney Point's Brady Harrington, Bobby Stevens and Sean Kelly were the high scorers of the night.
With 5 games left in the season, the Varsity Bobcats are looking to end the season with more wins against Marathon, Trumansburg, Union Springs, Elmira Notre Dame and Odessa-Montour.
v12i3