The 2016 IAC Swimming and Diving Championships were held at Waverly on February 13, 2016. Lansing won both the 2016 IAC swimming and diving championships. Lansing won the swimming competition with 434 points to Waverly's second place finish of 376 points.
Lansing won the 2016 IAC diving championship with Adam Hopson placing first with a score of 368.15 and Caleb Mosley placing third with a score of 288.90. This was both Hopson and Mosley's first year of diving.
Lansing won all 3 relays at the 2016 IAC Swimming Championship Meet. The 200 yard medley relay's winning time was 1:51.90. The members of the 200 MR were Mikey Koch (27.91 sec); Xavier Gell (29.86 sec); Sean Ross (29.76 sec) and Grant Sterle (24.37 sec). The winning time for the 200 yard free relay was 1:30.72 by Josh Dennis (23.96 sec); John Koch (22.06 sec); Abi Light (22.62 sec) and Joe Koch (22.08 sec). The 400 free relay was 3:21.20(IAC meet record) by Josh Dennis (52.90 sec); John Koch (49.17 sec); Abi Light (49.74 sec) and Joe Koch (49.39 sec).
Lansing's Joe Koch won the 200 free with a time of 1:45.13. This was a state qualifying time and both an IAC meet and Waverly Pool record. Lansing's Grant Sterle finished 5th (2:04.41); Sean Ross 9th (2:12.33); and David Pollack 13th (2:20.83).
Lansing's John Koch won the 200 individual medley (IM) with a state qualifying time of 1:59.72. Josh Dennis was second at 2:13.47 and Toby Green 8th at 2:42.22.
Xavier Gell from Lansing won the 50 yard freestyle (23.30 sec). And, Wesley Van finished 15th (29.21 sec).
John Koch won his second event, attained a second state qualifying time and set a new IAC meet record in the 100 yard butterfly-53.45 sec. Other Lansing swimmers were Josh Dennis 2nd at 59.95 sec; Caleb Mosley 7th at 1:13.06 and Sean Ross 9th at 1:14.82.
Lansing swimmers Abi Light (51.31 sec); Mikey Koch (54.95 sec) Wesley Van (1:06.77) and Ryan Bosanko (1:09.61) placed 2nd, 4th, 14th and 16th, respectively, in the 100 yard freestyle.
Lansing's Joe Koch won the 500 free with a state qualifying time of 4:45.01. Grant Sterle finished 5th with a time of 5:55.08 and David Pollack finished 8th with a time of 6:16.10.
The 100 yard backstroke had Abi Light finishing 2nd at 59.15 sec; Mikey Koch finishing 4th at 1:02.11 and Ryan Bosanko finishing 13th at 1:24.84.
Xavier Gell finished 4th in 1:09.89 and Toby Green finished 9th in 1:19.55 in the 100 yard breaststroke.
Joe Koch from Lansing was named the 2016 IAC Championship Meet outstanding swimmer by the coaches.
It has been 8 years since the Lansing Boys Swim Team has sent a relay team to the New York State Championship Swim meet which will be held at Erie Community College in Buffalo, NY on March 4th and 5th 2016. The Lansing Boys qualified two relay teams for the state meet-the 200 Yard Medley Relay with a time of 1:39.99 and the 200 Yard Free Relay with a time of 1:29.85.
The Section IV Class C Championship started with the Lansing Divers, Adam Hopson and Caleb Mosley, placing first and third in the Section IV Class C Diving Championship which has held in Waverly on February 19, 2106. Hopson won the 1 meter diving competition with a score of 334.10. Second place was Jacob Slater of Watkins Glen with a score of 276.00 and third place went to Caleb Mosley of Lansing with a score of 256.50.
The Boys Section IV Class C swimming competition started with the 200 Yard Medley Relay at Owego Free Academy on February 20, 2016. The Lansing Team of Abi Light (back stroke-26.93 seconds); Joe Koch (breast stroke-27.07 sec); John Koch (butterfly- 22.92 sec); and Xavier Gell (free style-23.07 sec) won the event with a state qualifying time of 1:39.99.
"In all the teams that I have been a part of both as an athlete and as a coach for Lansing I have never seen such a tight knit group of individuals that work so hard for each other," Zarate said. "Even though swimming is mostly an individual sport this Lansing swim team feeds off each other's energy and passion so much that one truly understands the team aspect of swimming. This was evident when the 200 Medley Relay got the state cut in the first event. Every single swimmer on the team was so thrilled and fueled by their success that 100% of the swimmers that followed got personal bests."
The 200 Yard Freestyle was a tight race that was won by Odessa Montour's Billy Tague (1:53.09) who just out touched Lansing's Josh Dennis (1:54.98) at the finish. Lansing's Grant Sterle placed 7th (2:03.33); Sean Ross 13th (2:09.73) and David Pollack 15th (2:17.03) in the 200 free.
The Boys 200 Yard Individual Medley had Lansing Seniors Joe Koch (1:59.58-state qualifying time) and Abi Light (2:06.75) finishing first and second with Lansing's Toby Green finishing 12th (2:36.85).
The Boys 50 free was won by Karl Grunder (Chenago Valley -22.65 sec) with Lansing's Xavier Gell finishing 3rd (23.64 sec) and Mikey Koch finishing 4th (23.96 sec).
Lansing's John Koch improved upon his 100 yard butterfly state qualifying time by winning the 100 fly in 52.38 seconds this was followed by Lansing's Caleb Mosley 5th (1:07.54); and Sean Ross 8th (1:10.99).
The Boys 100 freestyle was won by Watkins Glen's Matt Doppel with a state qualifying time of 48.45 sec followed by a second place finish by Lansing's Abi Light 50.84 sec.
Lansing's Joe Koch won the boys 500 yard freestyle with a state qualifying time of 4:45.70. Other Lansing swimmers who placed in the 500 free were Josh Dennis 2nd (5:12.19); Grant Sterle 8th (5:58.57); and David Pollack 13th (6:06.05).
Winning and qualifying for the state meet in the Boys 200 Freestyle Relay were the Lansing team of Xavier Gell (23.62 sec); John Koch (21.86 sec); Abi Light (22.79 sec) and Joe Koch (21.58). Their winning time was 1:29.85.
One of most exciting Sectional races was the Boys 100 yard backstroke featuring Watkins Glen, Matt Doppel against Lansing's John and Mikey Koch. Doppel (53.58 sec) edged John Koch (54.20 sec) with Mikey Koch finishing 3rd at 59.74 sec. Both Doppel and John Koch obtained state qualifying times in the 100 backstroke.
The Boys 100 yard breaststroke was won by CV Karl Grunder(1:02.21) with Lansing's Xavier Gell 4th (1:08.48) and Toby Green 9th (1:16.94).
The Lansing's 400 yard relay team finished 3rd with a time of 3:37.62. The team was comprised of Sean Ross (58.19 sec); Mikey Koch (52.40 sec); Grant Sterle (55.67 sec) and Josh Dennis (51.36 sec).
Lansing Boys Swim and Dive Team won the 2016 Section IV Class C Championship with a final score of 427 points to second place finisher Chenago Forks with 381 pts.
Lansing's Joe Koch was named the meet's outstanding swimmer by the coaches. Joe won 2 individual events-200 IM and 500 free- and was a member of 2 winning relays- 200 medley and 200 free. All four events had state qualifying times. John Koch swam in 4 events with state qualifying times. John was on the 2 state qualifying relays- 200 medley and 200 free- and won the 100 fly and took second in the 100 back.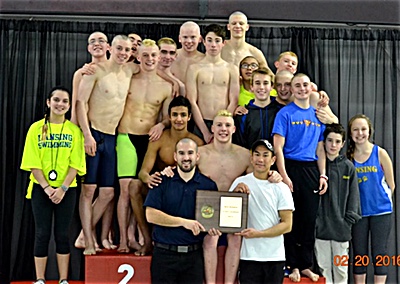 The four swimmers on the state qualifying 200 yard medley and 200 yard freestyle relays- Xavier Gell, John Koch, Abi Light and Joe Koch plus four alternates from each relay will represent Lansing High School at the State Championship meet on March 4 and 5th 2016 in Buffalo, NY. In addition, Joe Koch will be swimming in the 200 yard freestyle and 500 yard freestyle events and John Koch will be competing in the 200 yard IM and 100 yard butterfly at the state meet.
Zarate also commented on the cohesiveness of his team that "throughout the season he has received compliments from other coaches on how much our team gets behind their fellow swimmers during each event".
Finally, Zarate says the reason that the team has been so successful is because of their tremendous work ethic. Anyone that knows the long hours and the early mornings before school that the swimmers put in know that it is very demanding but the swimmers hardly complain and come to work hard each and every practice.
v12i8
The 2015-2016 Lansing Boys Swim and Dive Team under first year coach Tom Zarate capped off an undefeated season by going 10-0 in dual meets and then finished off the season by winning both the 2016 IAC and Section IV Class C Swimming and Diving Championships.