By

Stephen Kimball

Sports

Print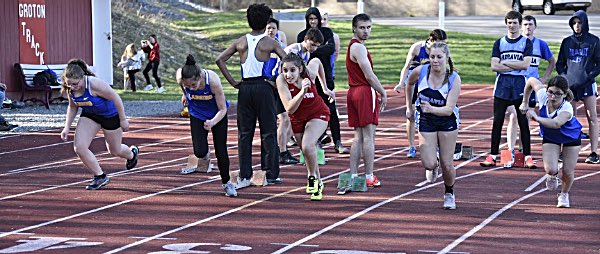 Jumping right in after spring break, Lansing's varsity girls and boys track and field teams won their dual meet against Groton and Moravia. Held in Groton, the warmer weather and lack of wind were welcome conditions for all of the competing athletes. Lansing track and field saw over 50 personal records set on Monday and several more season bests. The high number of personal records is very exciting to witness and shows how hard the athletes are working.
Highlights include:
Colton Stauffeneker was a double winner in the throws with two personal bests and continues to lead a throws crew that has turned out personal best after personal best.
Cat Zaloj tied her outdoor PR in high jump, clearing 5-2 and maintaining her lead atop the section 4 leaderboard in that event while also winning the 100hurdles and 400hurdles. Cat is undefeated in all of her individual events thus far this season.
Gwen Gisler also continues to top the section 4 rankings and remains undefeated this season in pole vault.
Catie Eisenhut has[SK1] won every 1500 and 800 entered thus far this season.
Ellie Howell saw personal bests across every individual event in which she competed (100H, 100, and triple jump).
Complete results can be found by
clicking here
.
Lansing's Next Meet is the Waite-Molnar Invitational at Elmira High School. Field events begin at 11:30 am and track events begin at 12:00 pm.
v15i16