By

New York State Governor's Office

Sports

Print

State Police issued more than 8,300 tickets and arrested 122 people during a special STOP DWI traffic enforcement period over Super Bowl Weekend. During the annual campaign, which started on Friday, February 1 and ran through 4 a.m. on Monday, February 3, 2020, State Police increased patrols and conducted sobriety checkpoints to deter, identify and arrest impaired drivers. The initiative was funded by the Governor's Traffic Safety Committee and was also carried out by local law enforcement agencies across the state.
"Even if your team didn't make it to the game, Super Bowl festivities remain a great tradition centered around spending time with friends and loved ones, but it's not a license to overindulge and take to the roads," Governor Andrew M. Cuomo said. "New York has zero tolerance for drinking and driving and these results show that our aggressive enforcement of the law is working and it's helping to keep New Yorkers safe on our roadways and highways."
During this enforcement period, State Troopers arrested 122 people for DWI and investigated 370 crashes, which injured 66 people. State Police did not respond to any fatal crashes during the weekend.
As part of the enforcement, Troopers also targeted drivers speeding and aggressive drivers across the State and issued a total of 8,372 tickets for a variety of vehicle and traffic violations. Below is a sampling of the total tickets that were issued:
Speeding 2,841
Distracted Driving 183
Seatbelt violations 201
Move Over Law 102
New York State Police Superintendent Keith M. Corlett said, "We have zero tolerance for dangerous and distracted drivers on our highways. As always, we are committed to keeping our roadways safe. Drivers can do their part by also putting safety first. Make sure to put down any electronic device, move over, slow down and of course, drive sober."
New York DMV Commissioner and GTSC Chair Mark J.F. Schroeder said, "There's no excuse for impaired driving. The results show, if you make the reckless decision to drive impaired, you will be caught and held accountable. I applaud our state and local law enforcement for their hard work in keeping our roadways safe."
During last year's Super Bowl enforcement State Police issued more than 8,000 tickets and arrested 146 people for DWI.
The results of the 2020 campaign broken down by Troop is available below: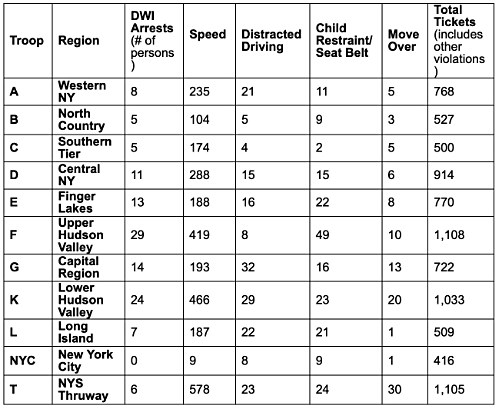 v16i7