The 2011 varsity volleyball team has the talent and experience that may well translate into a strong record and possible playoff run.
"The team has shown great dedication during the offseason," says Coach Brenda Powers. "Most of the girls played club ball, and they all participated in college run camps this summer. They really like each other which is an intangible that is so important. This team can go a long way if they stay committed."
The team includes seven seniors and six juniors. 2010 IAC All-Stars Hannah Armstrong, Amber Howser, Caroline Prybyl and Kelsey Thomas represent four of the five returning starters. Nicole Washburn starts her 3rd varsity season at Libero. Amber Ryan, Sally Stoyell, Shanna Shaff and Vanesa Coury return for their 2nd varsity campaign. Ascending from the Junior Varsity are Jada Gooch, Meghan Judd, Keara Lowenhar and Shayln Watson. Coach Brenda Powers starts her 2nd season at the helm of the Bobcats and is assisted by Nicole Lamie.
Ten of the thirteen team members played club volleyball over the winter and spring. Traditionally strong competition in the IAC comes from Tioga, Trumansburg and Dryden. Moravia is a dark horse that will beat some pretty good teams. Caroline Prybyl and Kelsey Thomas serve as team captains.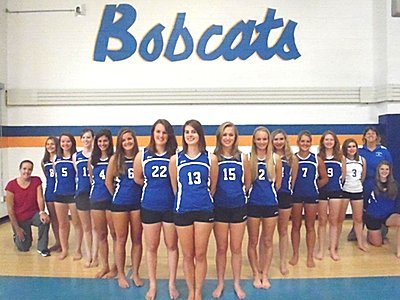 Early Season Games
The (4-0) varsity volleyball team is off to a fast start by way of three conference game victories. The Bobcats gained commanding victories over IAC conference foes Southern Cayuga, Whitney Point, and Groton. In ten conference game sets, the team has won nine. At Southern Cayuga, the team opened the season in fine form by systematically breaking down the SC defense and running up an early 12-2 lead. Amber Howser had precision kills that set the pace for the Bobcats. Meanwhile, Southern Cayuga could not get an attack going as Caroline Prybyl had key blocks early on (5 overall) to thwart Southern Cayuga's effort. Kelsey Thomas was lights out with 5 Ace serves and 8 Kills. Coach Brenda Powers tried new combinations in the second set as she made a move to develop quality depth. Southern Cayuga fought back and narrowly won the second set with a determined approach. The Bobcats went back to work in the 3rd and 4th set and appeared to get stronger as play continued. The final scores were 25-15; 23-25; 25-12; 25-10.
At Whitney Point, the Bobcat team demonstrated their depth and shot down the Eagles in a 3-0 win. The starting team of Hannah Armstrong, Kelsey Thomas, Amber Howser, Caroline Prybyl, Amber Ryan, Sally Stoyell, and Nicole Washburn put on a clinic with a methodical win in Set 1. Coach Brenda Powers used different player combinations in Game 2 and 3 that did well to control of play as well while getting wins. Meghan Judd was impressive at the serve line while Keara Lowenhar (4 Aces/ 4 Kills) and Shalyn Watson ( 4 Aces) had strong games. Jada Gooch contributed 2 nice blocks in the team effort. Final scores in set 2 and 3 were 25-15, and 25-14 .
The Bobcats continued the buzz saw road trip with a visit to the Groton Indians on Tuesday evening. Again, the Bobcats were convincing in winning the match in 3 straight sets. Coach Powers used a similar lineup strategy as at Whitney Point by using her starting seven in Set 1, then inserting her deep bench in the lineup for Set 2 and 3. Hannah Armstrong had devastating kills (7) that set the pace in the first set. Nicole Washburn was strong in all three sets as the Libero. Kelsey Thomas anchored the back row and demonstrated keen athleticism. Final scores were 25-15 , 25-13, and 25-13 .
The home opener is scheduled for Monday vs. the Dryden Lions as the four game road trip comes to an end. Defending division champion Trumansburg pays a visit to Lansing on Thursday evening. Game time is 6:00. The Junior Varsity will start at 5:00.
2011 Schedule
Aug 24 @ Spencer Van Etten ( 3-0 )
Sep 1 @ Southern Cayuga (3-1 )
Sep 6 @ Whitney Point ( 3-0 )
Sep 13 @ Groton (3-0 )
Sep 15 @ Union Springs ( too late for print )
Sep 19 Dryden
Sep 22 Trumansburg
Sep 24 @ Watkins Glen (tournament) 9:00 AM
Sep 27 @ Moravia
Oct 3 Southern Cayuga
Oct 6 Whitney Point
Oct 12 Groton
Oct 17 Union Springs
Oct 19 @ Dryden
Oct 21 @ Trumansburg
Oct 24 Moravia ( Senior Night)
Sectionals Oct 31-Nov 6
Regional's Nov 12-13
State Championship Nov 19-20
v7i36