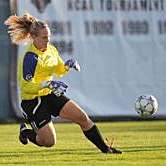 Lansing High School 2010 graduate MC Barrett was named 1st team All-Ivy League in women's soccer last week.  A sophomore goalkeeper at Brown University, earlier in the week Barrett was also named to the Capital One Academic All-District 2nd team for District I (the northeast and mid-Atlantic region) in a vote by the College Sports Information Directors of America.
Barrett played all 17 games this season, starting four games. After playing the second half of every game in 2010 and the first 13 games of 2011, Barrett played the last four games in entirety due to an injury to classmate Amber Bledsoe, with whom she had split time in every game of 2010 and 2011 until that point.
In 986 minutes, Barrett posted a 0.73 goals against average, 51 saves and a .864 save percentage, all second in the Ivy League. She finished 20th nationally in NCAA Division I in save percentage and 34th in goals against average.  She finished the year with an 8-4-2 record, including two shutouts, and was a part of five other Brown shutouts this year.
A three-time selection to the Ivy League Weekly honor roll, Barrett was a one-time Ivy League Player of the Week. The 2010 recipient of the team's Coaches' Award, Barrett has played in 34 career games with 98 saves, a 0.89 GAA and a .845 save percentage. She has also been a part of 13 shutouts.
Off the field, Barrett has been a tutor and mentor with Project GOAL, a tutor at the Vartan Gregorian Elementary School, a member of Athletes in Action, and a member of the Student Athlete Advisory Committee. She currently has a 3.66 GPA as a pre-med economics major.
v7i45