The Lansing Girls Basketball team completed their regular season finishing with a record of 16-1, with wins over Dryden 42-28 and Southern Cayuga 60-39.
On Senior night the Ladycats honored their 8 seniors; Rachel Bruce, Megan Drake, Soraya Leathers, Taylor Policay, Sabrina Tilton and Tri-captains Carlene Fields, Shanna Shaff and Colby McCartney. They defeated Dryden 42-28 with Colby McCartney leading the way with 14 points, while she shared top rebounding honors with sister Shea McCartney with 9. Shea also had a team high 4 assists and 8 points, while sister Maura McCartney had a team high 8 steals.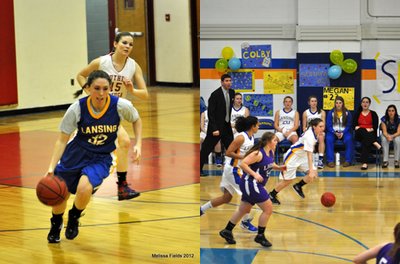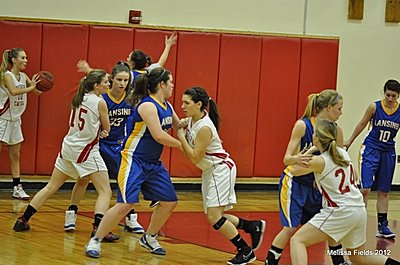 At Southern Cayuga on Tuesday the Ladycats won 60-39 with Shanna Shaff leading a balanced scoring attack with 13 points on 5 of 9 shooting from the floor, she also led the team with 4 steals. Colby McCartney had 12 points and a team high 8 rebounds, while Taylor Policay chipped in with 10 points and Carlene Fields had a team high 4 assists.
The Ladycats play next in the I.A.C. Large School Championship game at TC3 on Friday February 17th at 6:00. Their opponent will be I.A.C. defending Large School Champion Watkins Glen.
---
Photos by Melissa Fields
v8i6