The Lansing Junior Varsity Baseball team started their season off with chilly weather but, they played hot and won their first two games of the season.  Thanks to the Lansing Baseball Program, Kyle Rizzo (Modified Baseball Coach) and Dan Cheatham (JV Baseball Coach) the team is filled with utility players, solid hitters and a committee of quality pitchers.  Cheatham coaches the skilled team of players with good leadership, an original sense of humor and a great knowledge of the game.  The team operates as a disciplined machine, but keeps fun in the front of their minds.
The boys faced Candor in a season opening, home game that ended in a confidence boosting score of 23-5.  Discipline and confidence at the plate along with some aggressiveness on the bases allowed for 12 hits, 13 walks and only 5 strikeouts.  Corbin Atkins led the team's offense, going two for two with a double, four RBI (Runs Batted In) and a stolen base.  Jesse Richardson helped the team by getting on base and scoring five runs out of his six plate appearances.    Greg Lee grabbed the win with four hitless innings of pitching.  Lee retired seven batters on K's (strikeouts) and only walked two.  Brandon Mikula took the mound for the fifth and sixth inning, tacking on five K's of his own.  Ben Kutler closed the game with three K's.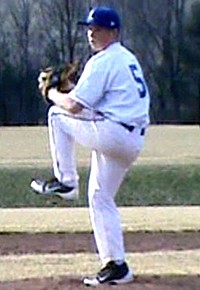 For their second game the team traveled down to Elmira, defeating Thomas A. Edison 14-7.  Coach Cheatham called on a different three pitchers to supply the force in this game.  Backed up by a solid defense, Brandon Davis, Atkins, and Richardson held TAE to seven runs off seven hits.  Atkins had 5 K's and Richardson caused several ground balls for his defense to skillfully handle. 
The offense was spread across the entire team.   Ben Kutler's pure speed allowed him to reach base five out of six times, with three hits, one a double and four runs scored.  Owen Davis went two for three with a walk.  Stanhope went two for four with three RBI.  Dominic Tarallo went two for three and Atkins went three for five with a double and two RBI.  Brandon Davis crushed the ball, going three for five with two doubles and two RBI.
All of the boys are hitting the ball hard and running the bases well.  Their defense is smart and smooth and lead by ten players that can pitch.  The future looks bright for this group of players as they look to continue the success of Lansing Baseball.  Their next game is scheduled for Friday, April 12, 4:30 PM, at Union Springs.  Their next home game is scheduled for Wednesday, April 17, 4:30 PM vs. rival Moravia.  The schedule is dynamic due to the weather so, check the
Lansing Schools web site
for an up to date listing of when the boys play next.
v9i14