Get out the dust pans.  The Bobcats JV Baseball team swept the Purple Lions of Dryden in a two game battle of the big cats. With solid pitching and respectable hitting, the Dryden team came over the hill to give Lansing one of the closest games yet this season.  The Lions held their heads high with the 14 – 6 loss and hoped to have their revenge the following day when they would host Lansing at their house.  The Bobcats denied them with a 14 – 3 win, putting the Bobcat's record at 9 – 0 for the season.
For their first meeting, 6'3" Logan Osterman took the mound.  Dryden battled at the plate taking several full counts, but Osterman held firm only allowing one run in three innings.  He struck out five of sixteen batters that he faced and only allowed three hits.  Corbin Atkins relieved Osterman in the fourth inning.  He did a sound job, striking out eight and allowing only two hits giving him the win.
Ben Kutler, Bryce Stanhope and Jesse Richardson started off the first inning, each scoring runs.  Brandon Mikula filled in a box in the second inning getting on base with a picture perfect bunt. This made the score 4 - 0.  In the top of the third inning Dryden put a run on the board.  Lansing answered back by batting through the order and then some.  Jared Strait got on base due to an error, then became a burglar and proceeded to steal second, third, and home to start the barrage of runs.  The Bobcats tacked on seven more runs with a two RBI singles by Kutler and a two RBI singles by Brandon Davis.  Stanhope improved his batting average going 3 for 4 with a walk and scoring three runs.  Caleb Moseley came off the bench and scored a run as well.
The next day Lansing traveled to the dugouts of Dryden to set up shop and umbrellas.  The Bobcats started off the game ready to play.  Kutler belted a nice hit to left field and then stole second.  Stanhope drilled one at the third baseman, getting out but scoring Kutler.  Brandon Davis hit a single to center field and was driven in by Osterman's RBI double.  Strait put one up the middle scoring Osterman and putting the Lions in the hole from the start making the score 3 – 0, Lansing.  Brandon Davis took the mound with attitude and confidence.  The Bobcats used the leather and five of his pitches to take down the top of Dryden's batting order.  Dryden's defense and pitching tightened up and shut Lansing down in the second and third innings.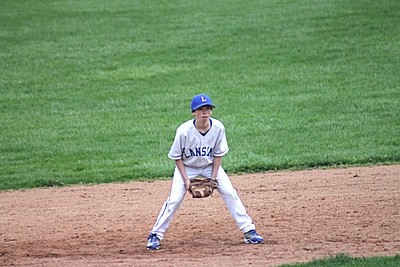 Meanwhile they put three runs on the board raising their confidence and bringing the score to 4 – 3, closer but still in Lansing's favor.  It was too close and the bats started to come alive for the Bobcats.  Atkins watched four straight balls, took first on the walk and then second on a wild pitch.  Mikula laid down an RBI bunt scoring Atkins.  Stanhope got, what else, another hit, stole second base, moved to third on Richardson's at bat, then took home on a passed ball.  Lansing defense and pitching shut down the Purple Lion's with good gloves in the field and a six pitch, fifth inning from B. Davis. The boy's bats were a little jealous of their gloves and decided to join in the fun.  They added on seven more runs from two walks, four singles, two doubles, and an Atkins two RBI triple.
With the score at 14 – 3, Dryden had a steep hill to climb.  A pop out to the shortstop, a throw down to second catching a runner stealing and a strike out looking, ended the game and completed the sweep.  Brandon Davis pitched the complete game and earned the win with three K's, five hits and only one earned run.  Atkins went 1 for 3 with three RBI and a walk, Mikula went 2 for 4 with three RBI, Strait went 3 for 4 with an RBI, Osterman went 2 for 3 with one RBI and a walk, and Brandon Davis went 2 for 3 with a walk. 
Greg Lee, Owen Davis, Mikula, and Osterman all have an OBP (On Base Percentage) above 0.700.  Osterman stands at 0.850 and pulls up the team OBP to 0.624.  Atkins, Lee, Osterman, Stanhope, and Kutler all have BA's (Batting Averages) above 0.400.  Kutler holds at the top with a 0.485 BA.  The team's batting average is 0.340 and climbing.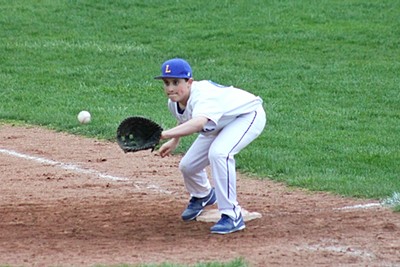 The team has depth at all positions.  When one player is having a bad day there are five more to pick him up.  Coach Cheatham is doing a great job shifting players around and keeping it fun, while remaining competitive. He instills discipline, confidence and sportsmanship while keeping the team laughing with his sense of humor. 
Their next game is a double header, at home, Friday, May 3, vs. Union Springs.  The first game is scheduled to start at 3:45 PM, the second game immediately following.
v9i17