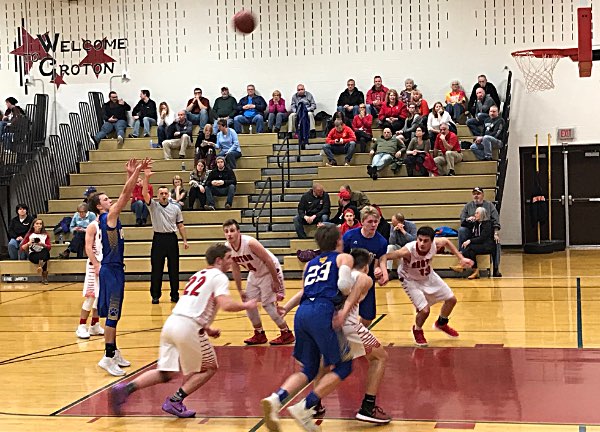 The Lansing Bobcat boys varsity basketball game against the Trumansburg Blue Raiders was postponed due to school closings on Friday January 5th, but they traveled to Groton for a match against the Indians on January 9th.
Groton won the tip, but Lansing opened the scoring with a Garrett Bell bucket off a nice Griffin Nelson pass. Luke Winslow hit the first 3 pointer of the game, the first of many, but the Indians were able to answer with one of their own. Groton struggled with the Lansing pressure, and with 2:30 minutes to go in the first, the Indians called their first timeout, down 16-6. The Bobcat success would continue, ending the first quarter with a sizeable lead, 22-8.
In the 2nd quarter, Nelson turned it up a notch, putting in 12 of his game high 19 points. Lansing called a timeout at 4:00, up 29-18, as Groton gained some ground on them. However, the end of the first half would find Winslow burying another 3 pointer to put the Cats up 43-21.
Langston Hopkins would start the 3rd quarter with a breakaway layup, and the Lansing squad would lead by as many as 32 half way through the frame. The third quarter would end with the Bobcats in control, 58-31.
In the 4th quarter, almost 2 minutes would elapse before Lansing was able to score again, but with only 2 and a half minutes to go, they still held a 30 point lead. The highlight of the quarter was Jack Babuka's one-man full court press, leading to a steal near the basket and an easy 2 points.
The game would end with a Bobcat win, 69-41.
Griffin Nelson led the Bobcat scorers with 19 points, Luke Winslow added 16 points, and Garrett Bell put up 12.
The Lansing Bobcat JV squad came up just short in their contest, losing 47-45.
The Bobcats face the Southern Cayuga Chiefs at home on Friday January 12th.
v14i2