I always wondered if Hazlitt Winery and their wines 'Red Cat' and 'White Cat' and the Stone Cat were related. It was a thought. Hazlitt wine does appear on their menu, but that's the extent of the connection.
It doesn't matter in any case. The
Stone Cat Café
is quite the destination with locally grown produce at the center of its mission. You can even see, on the menu, which farms grow the food appearing on your plate.
Located on Rt 414 in Hector – right in the middle of Seneca Lake Wine Country – the Stone Cat is an unassuming structure overlooking Seneca Lake. It used to be a farm market years ago. Appropriate since the Stone Cat is dedicated to creating delicious and elegant fare while supporting local growers. Park in the gravel lot next to the willow tree. It feels more like visiting friends than 'going out' until you pass through the front doors and are greeted with smiles from the staff and aromas of the excellent culinary creations.
We visited with our friends from Virginia Beach – they insisted, suggesting that our education would be severely neglected if we didn't experience this culinary playland. It didn't take a great deal of pushing – I've wanted to go there ever since the first time I drove by over 10 years ago.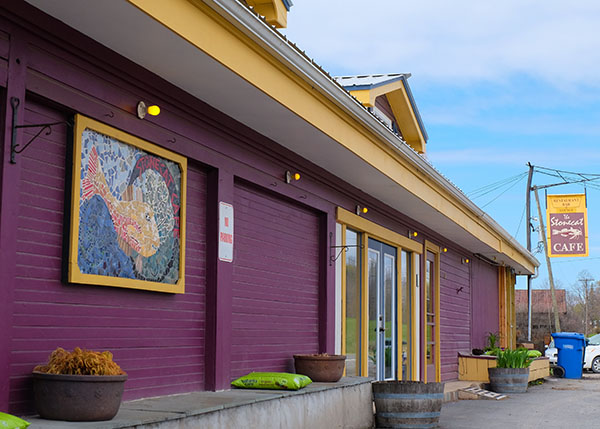 If the weather cooperates, ask to be seated on the deck. The finger lakes freshness and the Stone Cat were meant to go together outdoors. Even with a performer playing his guitar and singing, the sound level was fine for conversation or just listening to the music.
Our server appeared moments after we were seated, asking if we wanted drinks. I strongly suggest the Smoked Tomato Bloody Mary. Seriously, they smoke their own tomato juice. It goes down smooth and has just enough spice and kick to prepare you for what is to come.
A couple of the appetizers had names I didn't know like 'Olivada' and 'Gravlox'. I thought I'd be adventurous and chose the Whiskey Cured Gravlox. I DO know what whiskey is, and I confess that made the choice easier… The dish is sockeye salmon cured in rye whiskey served chilled with herbed cream cheese, bourbon pickles, capers and their fresh baked bread. The combination of tastes was unknown to me and so the jury's still out. I may have to go back for more to make an accurate assessment.
The entrée I chose was the grilled, grass fed NY strip steak. The meat was done exactly as I requested – halfway between mooing and charcoal. That's medium, right? Add to the beef, garlic mashed potatoes, sautéed organic vegetables – in all, a good, relaxed and satisfying meal.
Too full for dessert, we rolled home in a food coma, vowing to come back again when we were hungrier. Leaving anything on the plate would have been a crime. Yes, it's that good.
The Stone Cat is within reach and absolutely worth the drive to Hector. Visit some of the great wineries while you are on Rt 414. Caywood, Silver Thread, Damiani, Atwater and a host of others will call you. Go ahead. You don't get this way often.
Prepare to pay for the delightful meal. For four of us, including drinks, it came to $250 and change before the tip, which was generous because of the excellent service we received. Also, don't be in a hurry. The chefs at the Stone Cat will not rush their creations. Be a bit patient, and you will be happily rewarded!
Since the restaurant is quite popular, reservations are strongly suggested.
---
'Within Reach' highlights the food, wine and fun of places 'within Reach' of Lansing NY. Of course, your reach extends exactly as far as you want it to. I am
Monroe Payne, Uncle Monte
to some. Come with me as I visit, taste and play in our own back yard, the beautiful Finger Lakes of Central New York.

v13i30