Ever since I knew it existed, I've loved Ithaca Beer. Nut Brown, Apricot Wheat, Flower Power – all have been enjoyed and shared. But I had no idea what was in store this time. A dark beer that feels, looks and tastes just right – but with a little surprise.
'The Silverback Awakens' features hints of chocolate, toffee, coffee, and caramel – none of which overpower this magnificent brew. It's not available in packs, so we brought a couple 64 oz growlers home. But I'm getting ahead of myself.
Ithaca Beer Company
was started in 1998 with the intent to be 'The Spirit of the Finger Lakes'. From the web site,
"We began in a small renovated retail store just outside of Ithaca, New York. The original space had a small 7 barrel brewhouse, a modest tasting bar and sold full growlers to go as well as homebrew supplies. Today, Ithaca Beer brews about 25,000 barrels of beer per year and features both 50 and 5 barrel pilot brew houses." I was amazed at the size of the operation. We've driven past the sign many times, but the brewery is well masked from the roads and is surprising when it finally comes into view.
The café (taproom) has facilities for beer tasting and a full set of restaurant offerings to satisfy any taste. The menu on the web site shows only a sampling of the choices. The special soup this past weekend featured a spicy sausage southwestern bisque, spicy enough to wake up the pallet without burning.
Our main course was smoked pastrami links with sauerkraut and a tangy dressing in a substantial roll. The meat was prepared especially for Ithaca Beer. Such a taste has never crossed my lips before, but it will again soon.
The beers are exceptional, especially the previously mentioned Silverback. I tasted the Raspberry Soiree, and thought that there was too much berry – but I may change my mind drinking it on a hot summer evening next to a camp fire. If you want a great IPA with a bit of a bite, I recommend the 'Cascazilla'…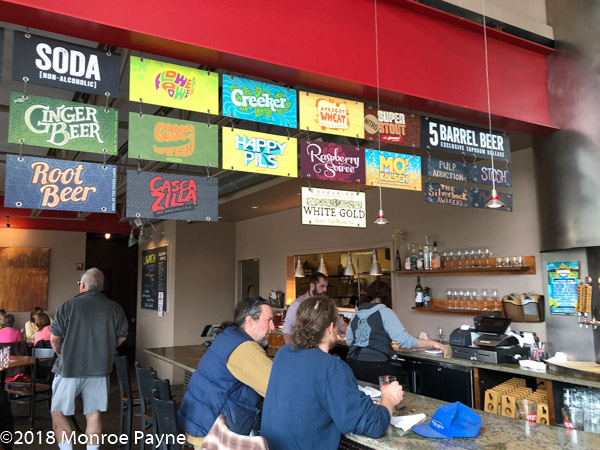 Friday, May 11, at 5PM, plan on being at Ithaca Beer for 'LAWNCH! Beer Garden opening powered by Renovus Solar'. The event is free to the public and will feature live music, food from their unique outdoor kitchen and a bonfire.
A word about the staff. They really seem to like their jobs. The friendliness is genuine, and the service is prompt and efficient. It was crowded when I was there, yet the staff, while hurried, took the time necessary for everyone to feel well served.
Make a point to visit Ithaca Beer Company. Be forewarned, they are closed Monday and Tuesday, but open 12-9PM other days. The bar is open Friday and Saturday till 10PM.
It's within reach, tasty and you will not go home hungry!
---
'Within Reach' highlights the food, wine and fun of places 'within Reach' of Lansing NY. Of course, your reach extends exactly as far as you want it to. I am
Monroe Payne, Uncle Monte
to some. Come with me as I visit, taste and play in our own back yard, the beautiful Finger Lakes of Central New York.

v14i17