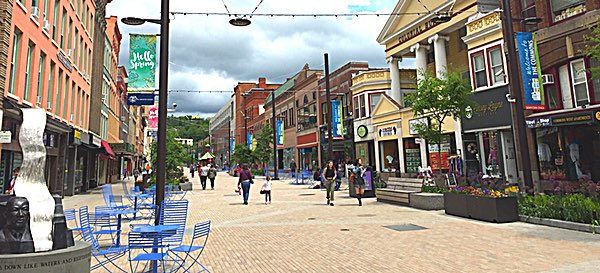 The Ithaca Rotary Club announced the awardees for its 2018 round of community grants. Eleven grant requests were funded at a total of just over $8,000. The agencies were honored at a check presentation on Wednesday, October 10th during Rotary's noon lunch meeting at Coltivare. Funds for these grants are raised through Rotary's annual Little Apple Fall Follies (LAFF) event.
The 2018 grant recipients are:
Catholic Charities - $1,000
Purchase a smart home security package for transitional housing for homeless women
Family & Children's Services - $600
Basic Needs Backpack Project
Family Reading Partnership - $380
Install Tompkins County's first Story Walk in Dotson Park in Danby
Finger Lakes Toy Library - $455
Add ride-on toys to its collection and be able to add specific toys in response to member requests
Hangar Theatre - $1,000
Install new listening assistance system for hearing-impaired patrons
Ithaca Children's Garden - $975
Purchase supplies to create a gear locker of outdoor wear to loan to program participants
Ithaca Community Garden - $385
Purchase supplies for a rain collection/irrigation system
Ithaca Welcomes Refugees - $785
Purchase special materials to support a new social-emotional education program
Izzy's Closet - $1,000
Purchase books for Izzy Reads, giving four books per year to three and four-year olds at Groton Elementary School and Groton Head Start
Tompkins Learning Partners - $850
Purchase learning materials for Adult Basic Education (ABE) and ESL classes
Ulysses Philomathic Library - $576
Purchase of a portable sound system for library events and community groups
Ithaca Rotary's community grants are intended to promote the quality of life in Tompkins County and the greater Ithaca area. These grants support organizations in the community that have special projects or needs which are not funded by general funding sources. Grants are usually awarded within the range of $200 to $1,000.
v14i40