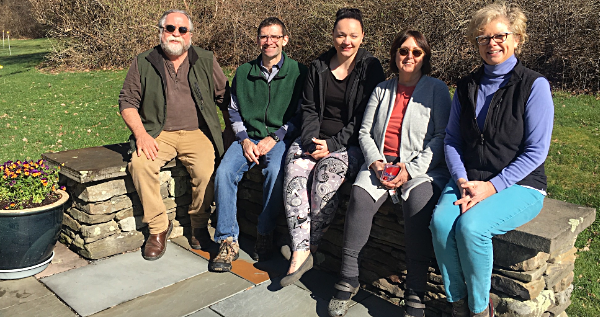 The Saltonstall Foundation for the Arts, in partnership with the Fine Arts Booster Group (FABG), an affiliate of IPEI, is offering
a creative retreat for teachers
of the Ithaca City School District (ICSD) teachers and other districts in Tompkins County during the February and March school breaks. The program is designed to provide residency-type retreats for local teachers in the following disciplines: creative writing, photography/film/video, and painting/sculpture/visual art. The program is free to attend. Teachers are selected through a lottery system.

The Saltonstall Arts Colony offers a quiet studio, a beautiful setting and time for inspiration in Ellis Hollow. The Saltonstall Foundation and FABG support teachers in their creative work inside and outside the classroom.


Lesley Williamson, director of the Saltonstall Foundation, was inspired to create the teacher retreat program by a similar one at a Florida arts colony.
"This is a very mission-specific way for us to support a group of local artists and writers who don't often get the chance to be artists and writers. We are so pleased to offer this opportunity to local teachers with the help of the Fine Arts Booster Group."
Jon Raimon, teacher at Lehman Alternative Community School, captured how he benefited from this residency, "Walking in the woods, spending time with a book of poetry, and then writing late into the night reminded me why I teach…Spending time at Saltonstall rejunvenates me and, I hope, makes me a better teacher".


Ongoing FABG initiatives include mini-grants to teachers, student scholarships, printing the performance booklets for ICSD secondary schools' concerts and drama productions; strengthening community connections; fundraising; Play It Again, Ithaca (collection of used musical instruments for use in the schools); Saltonstall Arts Colony retreat for teachers; and various efforts in support of arts in the schools.
v15i38