By

Dan Veaner

Business & Technology

Print
The first thing you notice when you walk into Lansing's newest furniture store is the sense of spaciousness. The large space, formerly Klein's All-Sports, is warm and inviting. And open. In many furniture stores it is easy to get lost in the maze of display rooms, panicking that you will never find your way out. This store has few dividers, and you always know exactly where you are.
Owner Bill Tucker is proud of the new store, which opened in May of this year in the Triphammer Mall. "Nice selection, good service, best price and middle range is where the majority of consumers are today," he says.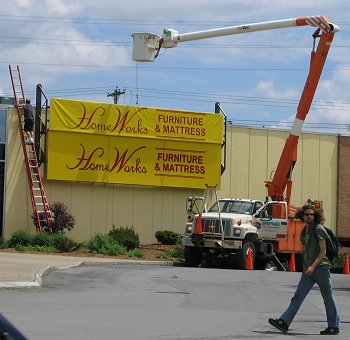 A new furniture store comes to town
Mr. Tucker owns Peck's Furniture in Cortland, and has been with Pecks for 28 years since the year after he graduated from High School. Pecks has always done a lot of business in Tompkins County and he was looking for just the right location to open a new store. He had been looking for almost two years when he got a call from the mall owner, Dick Baylor, who knew Klein's was going to close, making the space available. He looked at the location and liked it. In the opening week Mr. Tucker was very pleased with the customer flow, and didn't think the Triphammer adversely affected the opening.
Home Works goal is to offer a wide selection of styles in the best price ranges. The new store "is a move with the marketplace," said Mr. Tucker. He is often asked why he didn't name the store "Peck's." The reason is there is no similarity between the two locations, the stores do different things. He wants shoppers in both, so they have a different feel and stock. He wants convenience for Tompkins County shoppers and felt there was a need for a good quality furniture store here. He describes the open, airy look as a "lifestyle atmosphere," while the Cortland store has a more traditional room-oriented approach.
Mr. Tucker likes helping consumers find what they are looking for. After 28 years he has developed an eye for what furniture goes together. He shops for products that offer good value. He says, "By doing that we really are associated with the top manufacturers in the industry."

Bill Tucker
He has lived in Cortland since 1966 and much of his family still lives there. His 16 year old daughter and 13 year old son are "great kids. Both think they want to follow in their Father's footsteps." His daughter wants to go to Cornell and work for Dad. His son wants to "take over the family dynasty."
Mr. Tucker told us "It is great being here. The people are friendly and have given us a great reception. We've had nothing but great support from the community. I look forward to a long relationship here."