By

Cayuga Radio Group

Business & Technology

Print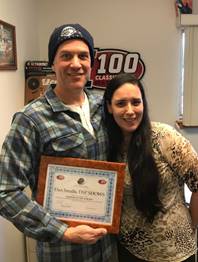 Iconic rock radio station WIII-FM (I-100) awarded its "Economic Engine- Business of the Year" with an in-studio interview and presentation to Dan Smalls, President of DSP Shows.
"Dan and his team at DSP are truly deserving of this award," said Kat Walters, Brand Manager and on-air host at I-100. "He has brought over 100 concerts and shows to the region over the past year which has resulted in thousands of thousands of people coming into our region and spending money here."
DSP Shows is an events promoter that is responsible for bringing live acts to such venues as The Haunt, The Dock, The State Theatre, Hangar Theater, and Homer Center for the Arts. In addition, DSP Shows created and held the inaugural Cayuga Sound Festival at Stewart Park which featured Ithaca natives X-Ambassadors and the Roots.
"Dan and his team are directly responsible for driving millions of dollars coming into our economy." Said Cayuga Radio Group President Chet Osadchey. "When you are selling over 50,000 tickets to area shows, this has a tremendous economic expansion factor. Through pre-show dinners at restaurants, tourism stops like wineries and breweries, as well as hotels, bars, and many other places where people shop and spend. In addition, these people are getting exposed to our wonderful music venues and our vibrant city."
Dan Smalls and his partner John Sanders have expanded across the region and now throughout the United States. On air with Kat Walters, Smalls told the story of how he got started as a college student at Cornell bringing in the band Blues Traveler to the Cornell campus. "It was a pretty bold move by a 20-year-old at the time." Said Smalls. Coincidentally, DSP Shows will be bringing back the band Blues Traveler to Ithaca's State on January 28th celebrating the 30th anniversary tour of the band.
Iconic Rock station I-100 also started a regular online/on-air segment called "Music Tour Talk" where listeners can submit music band/act questions and Kat Walters asks the questions on air and Smalls answers them.
v13i47