By

New York State Comptroller's Office

Business & Technology

Print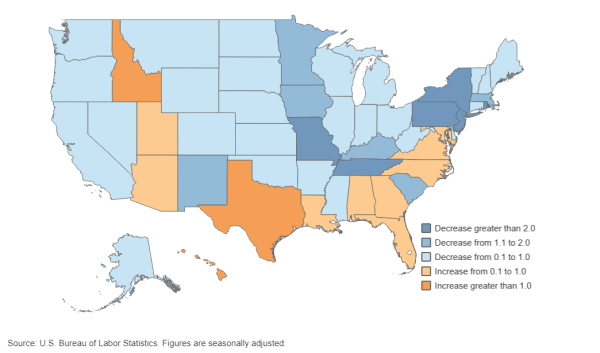 New York State's unemployment rate dropped to 9.7 percent in September, marking the first time the rate has been below 10 percent since the beginning of the COVID-19 pandemic. The 2.8 percentage point improvement in the unemployment rate was the second largest among all states, as shown in the map below. New Jersey led the nation with a 4.4 percentage point decline.
Unfortunately, a deeper dive into the Bureau of Labor Statistics data reveals troubling context: New York State's workforce declined by nearly 363,000 last month, a 2.3 percentage point drop from August (based on preliminary figures), while the number of individuals officially considered unemployed declined by 302,000. In short, the unemployment rate went down in large part because of the decline in New Yorkers counted as working or seeking employment. Such a decrease in the size of the workforce may indicate that individuals have ceased searching for a job actively.
New York also led all states in September job gains, at 109,300. Again, the picture is complex; at the same time, the number of employed people in the State fell by more than 60,000. Increasing numbers of New Yorkers working more than one job (perhaps part-time or temporary) may be one factor in those changes.
v16i44