By

Dan Veaner

Business Profiles

Print
In a world with Internet connectivity more and more people work alone at home.  While that work style suits some people, others miss the camaraderie and interaction they had in a physical office.  In Ithaca these people have an option to work alone, but with other people at
Studio West
.  Owner Greg Kops calls Studio West a coworking community that he says provides resources to people who want to be part of a community of self-directed creative entrepreneurs and freelancers."
"The idea of calling it a studio came from my experience having worked in an office," he says.  "I worked in a business that ended up in the Bank of America building.  The office we were in was very cubicalized and compartmentalized.  I felt that killed the culture of the company.  I ended up leaving, not primarily because of that, but in part because of that.  I did not like the idea of everyone off in their own little office with doors that could be shut.  It really changed the way that we all related to each other."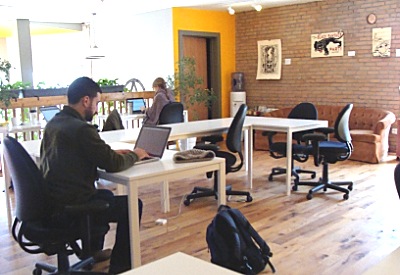 Kops has transformed the West MLK Street space into a welcoming space with a large common work room upstairs and private areas below.  As you enter the foyer an attractive stairway features plants and a warm sense of space and light.  The common room has desks and a wall for rotating art displays.  Downstairs is a conference room with a digital projector and white board, plus a private office for smaller client meetings.  Kops has taken advantage of foundation stones as a design element of the two private rooms.  The facility offers high speed internet.  A business printer and kitchenette are in the downstairs hall area, as well as a station for permanent member Megan Pugh, a graphic designer.  Recently Kops added lockers after potential members requested them.
"We're constantly thinking about what people are asking for," Kops says.  "Oh, people need storage.  Can we make that available?  Is that worth it for us to invest $600 for a locker system so we can sell two more memberships?  It actually is."

Studio West came about when an earlier business broke up.  Two of the partners left, leaving Kops and Danielle Klock to figure out what to do with the lease.
"We were doing software development and had gone to New York to meet with some of our clients down there," Kops says.  "We always used co-working spaces.  We looked at what it would take to make that viable.  We would need to put in some walls so we could have some private spaces.  We would need to buy furniture.  We put some sound panels on the walls.  We would need to get a projector, white boards, office supplies."
Kops is the sole owner now, but Klock continues to manage the art display wall in the facility.  Kops has made it his priority to build the Studio West business. 
Workers join Studio West as members.  They are able to use the facility any time during the month to use the space to work, meet with clients, or collaborate.
"We're located in a pretty accessible region of town, Kops says.  "We're looking to create a shared work environment for people to come to and spend their days and get their work done where they can do that in community rather than isolation."
It costs $175 per month to become a member.  Members who pay by the quarter get a $25 discount.  Or for $50 you get five day passes.  Kops says day passes have become popular, especially for people who only work in Ithaca a few days per month.  Including day pass members the business currently boasts the equivalent of 15 members, but Kops is hoping to grow the business to regular monthly memberships.  Prospective members can work at Studio West for a day for free to experience the benefits for themselves.
"That's our best marketing tool, giving people a free day at Studio West," he says.  "If you're interested in seeing if Studio West is for you, fill out the contact form on the Web site or call me and set up a time to see the space and work here for a day."
Members are given a door code so they can use the space day or night, 24/7.  The only exception is when there is an evening event scheduled.  He says that the private office and conference room could be used during events if members don't mind the noise.  Kops schedules music events and a gallery night himself, and rents the space for outside events as well.  He views the events as marketing opportunities because they bring people into the space to see what is available.
"I would really love for Studio West to get to 30 members," he says.  "At that point all of the business overhead would be covered.  All of our insurance, our water service, our Internet would be covered and I would be able to pay myself a salary that would cover my basic living expenses.  Then I would be able to approach my software development from a place of what do I want to be building and who do I want to be working with."
Kops develops software in the space himself, collaborating with Pugh on some projects.  He says it is a way to separate his software development business from his personal life.
"I'm super-glad to not work out of my home," he says.  "I needed Studio West because working at home was detrimental to my family.  It was detrimental to my sanity.  I wanted a place where work 'at work.'  So having Studio West has created a really healthy separation for the most part."
Kops is aggressively marketing the business with special events, mailings, and a new Web site.  A two year anniversary event was a way to interest potential members, and Kops credits the Thumbs Up BNI (Business Networking International) chapter with building the business, attracting members from the BNI group, and from people they tell about the space. 
"I'm seeing more interest through my Web site," he says.  "As people start to recognize that things are happening here I want the brand of Studio West to be one of excitement and creativity, self determination and motivation.  In that sense I am the brand ambassador for Studio West, because those are all my values."
Kops says he loves the co-working model because he is inherently a social person, and because his life mission statement is that he creates space for people, metaphorically and physically.
"I really enjoy creating space for things to happen," he says.  "I always like the idea that Studio West is a place where things happen.  Having a place where business and work happens, having a place where art happens, having a place where music happens... that's a resource of mine.  After an event when almost everyone has left.. how cool is this that I have a space downtown where I can hang out with my friends?  It's beautiful and has great colors and it's night time... I really like having the space and I really like being able to make that space available to my community and my friends."
v10i8