Lansing Community Recreational Center
(LCRC -- better known as "The Rink/The Field") on the balcony overlooking the two soccer fields.  The 4200 square foot space features "Cardio Theater,"  a row of flat screen TVs that members can watch while exercising, a large free weight area, and classes that include aerobic, Hip-Hop and Step, cycling, and Pilates sessions.
"I use a different approach because of my nursing background," says Director Frank Willis.  "It's more prevention and therapeutic.  It's being real, being honest and letting people know we're here for them.  It's a life style.  Changing habits.  Getting active and watching what you eat.  You can read all the books you want and watch all the TV programs you want, but the bottom line is you have to get active and watch what you eat.  It's that simple."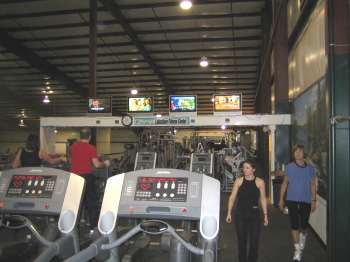 "Cardio Theater" features a bank of TVs and fitness machines
Willis takes the personal approach, getting to know each member by name, and learning as much as he can about their physical needs so he can mold an exercise program to each individual.
"I believe in being personable with everybody," he explains.  "I spend about 15 minutes on average with everybody that signs up.  We let them know that we're here to help them obtain the goals that they want to reach.  That's important.  You're a name and not a number. Everybody knows that when they come in."  New members get three sessions with a trainer, which Willis says is three times as many as most clubs offer.
At the end of its third month in business the facility already has 430 members, attracting people from as far as Binghamton, Aurora, Auburn, Elmira, Trumansburg, and Interlaken.  Many members exercise while waiting for their kids in soccer and skating programs that take places in the facility.  "They're already here.  Why sit down in the bleachers or go to the snack bar when they can work out?"  Free child care is also offered to members from 9am to 1pm.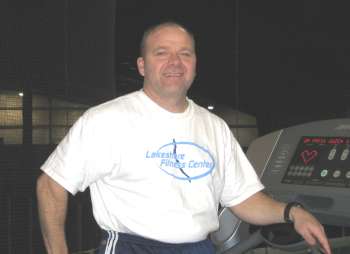 Frank Willis is the Director of the facility
Willis has courted corporations like Cargill, Ithaca High School, AES, Gosset Center, and IMR to provide programs for their employees.  "It decreases workman's compensation, absenteeism, sick time, makes them more productive, increases morale... those are the things I'm focusing on with those companies.  To help them improve productivity and morale around the workplace."  Willis sends trainers to these businesses to see how employees work and to build programs that will enhance their fitness, not cause harm.  He offers a discount to families of employees as well."
He has also partnered with "Curves" so their members have a place to take aerobic classes.  They also have access to the exercise machines Lake Shore Fitness has.  "We give more advanced training," says Willis, explaining how the two programs enhance each other.
Willis graduated Dryden high School in 1984, then spent 12 years in the military.  He is a paramedic, EMT, and nurse.  He's been in health and fitness since 1986 when he was  a personal trainer in the military.  He has been in the fitness business for the past eight years.  Lake Shore Fitness is the culmination of his dream to manage his own health club.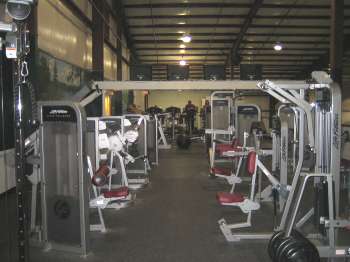 Weights area
Willis managed City Health Club and almost purchased it.  He was also interested in Courtside, but the deal fell through.  When the space became available in the Recreational Center he and Amit Saagani, his Syracuse-based partner created Lake Shore Fitness.  While his partner takes care of the business and finance end, Willis is the hand-on director the center.  "I'm the master mind on the fitness side of it, this is my background," says Willis.
Part of the State grant recently presented to LCRC by Senator Michael Nozzolio will enable them to complete the area beneath the fitness center so that Lake Shore Fitness can expand into it.  "Over the next three or four months we're going to double the size of the facility," says Willis.  "We're putting our own money in to add more and provide more for the community all year round, not just seasonally."  Locker Rooms and showers will go into the downstairs space, and the aerobic room, cardio and day care will be moved there.  The classroom will be a third again its current size.  
All the employees are CPR, first aid and AED certified.  Currently there are three certified trainers, six group fitness instructors, six certified day care staff and two who man the front desk.   Willis expects to be hiring more employees as the business grows.  The facility is open every day except Christmas.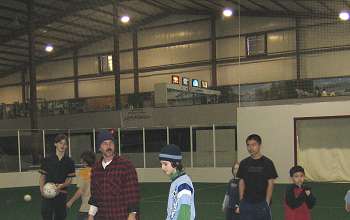 Lake Shore Fitness is above the soccer fields where parents can keep an eye on their kids while exercising
Meanwhile he is trying to attract members of all ages.  "We have a lot of folks who are older now, the 45 to 60 year old baby-boomers," he says.  "Just last week I had four gentlemen here who had never worked out in a health club.  Two were 78, one was 82 and the other was 88."  He also plans to purchase kids equipment to address child obesity and to start kids with good exercise habits.
"I love what I do.  The concept we have is the future of this business, where everybody can get what they want in one location."
----
v2i6
There's a new health club in Lansing, and it has hit the ground running.  Lake Shore Fitness Center is located in the