Plantsmen Nursery
on Peruville Road. Segal is the new owner, taking over the nursery that was established in 1994 to provide unusual, specialty plants.  The nursery reopened on May 6th and Segal says he wants to continue offering unusual plants with an emphasis on native plants and unusual perennials and shrubs, as opposed to annuals and tropical annuals.  "I'm still doing some fun annuals, things like bananas and elephant ears and coleus, all kinds of fun annuals," he says.  "But I hope the nursery will eventually be known as a native and unusual hearty plant nursery."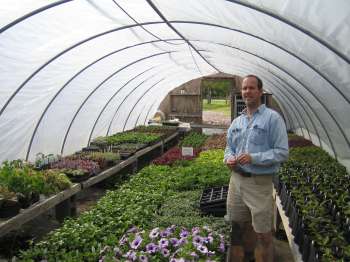 Segal grew up on Long Island, but came to the Ithaca area with his family when he was 17, when his father took a job at Cornell.  He lived in the area for about six years, attending Hamilton College near Utica.  After moving to California he needed a job, and happened to get one with a landscaper.  That's when he first became interested in horticulture.
One thing led to another with jobs at a golf course, a flower farm, and eventually nurseries.  "The first nursery that I worked for was very small, it was a a fun little nursery," says Segal.  "I tried to steer myself in that direction from then on."  He also did masters course work for two years at UC Davis in bio-geography with an emphasis on plant distribution and plant ranges and the ecology of how plants disperse themselves around the world.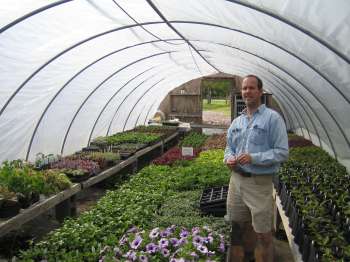 Expecting their first child he and wife Sarah decided to move closer to family.  Scoping out opportunities near his family on Long Island and hers in Oklahoma, he ended up at Pinelands Nursery in central New Jersey.  "It's a big nursery.  We grew about three million plants a year," Segal says.  "My niche at that point was working with native plants for environmental restoration work.  But we didn't want to stay in New Jersey forever."  
After five years he decided it was time to open his own nursery.  He spent a year looking near Albany and in this area.  "I always liked this nursery.  I didn't expect it would be for sale.  I talked to someone who worked here and she made a comment that led me to believe the owner might be interested in selling."  He says a lot of nurseries buy from a wholesaler, and that many of them have the same selection as a result.  "What we're doing here is growing and locating small plants that we can put into a container and nurture and make them available as over Wintered plants.  That makes them heartier and more adaptable."
The nursery includes a beautiful circular garden in the entry to the display area, with ample display space outside.  The plants are grown in rows of greenhouses on the premises.  Behind them is a wooded area with a couple of ponds that make a figure eight.  Segal plans a light trail system this area, creating a destination as well as a nursery.  "We're going to develop these as very light trails and invite people to take a nice stroll around the ponds."  Eventually he wants the property to look like a native botanic garden, with examples of plants he sells in the nursery.  "That's a fairly long term goal, but in the short term I expect we'll have a little bit of a trail system going through this year."
With three young children of his own Segal says it is important to him that Plantsmen Nursery be known as a place where families can come with their kids.  Eventually he wants to erect a nature observation shack along the side of the trail with a shaded sitting area.  He plans to invite scout troops, 4H and other groups to visit, and is seeking advice from the ornithology lab to learn what feeders will attract birds and to develop a list of birds visitors can look for.  "I want the property to feel like a nature center in the back," he says.
He is also planning an interactive garden where kids can play and garden.  "Part of that is because we have our kids," he says, "and I know that I'm going to be here all the time, and I need it to be something that is fun for them.  I don't want having a successful nursery to be at the expense of my family.  And we also want that for other kids -- we want people to feel their kids can play while they look around the nursery."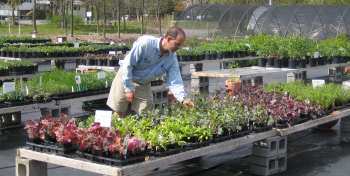 Dan Segal
Segal's wife Sarah and children Aaron (5), Sofia (almost 3) and Charles (6 months) will be moving to Lansing in about a month, after the school year is done.  He plans to add employees over the next few weeks to help keep things going especially during this transitional period.  He says he'll be doubling the availability of plants in the next few weeks as well as the Winter stock finished growing.
The plan is to keep the nursery open April through October or November, until the ground begins to freeze.  During the Winter he'll develop his Web site to be an informative resource as a draw to get people to come to the nursery.  "I want the Web site to be a guide to the kinds of things that we grow and kinds of planting, horticulture, land stewardship type work that I naturally enjoy and know how to do."  He says a lot of value of the Web site will be to give people ideas and learn about the plants he has to offer.
Meanwhile he is excited about the future and eager for his family to join him here.  "Plants are enchanting and seductive, haunting and evocative," his Web site says.  "If you have strong feelings about plants, visit a nursery with a horticultural passion as deep as your own."  Dan Segal is clearly happy to be exercising his own very deep passion for plants.
----
v2i19
Hearty, unusual and indigenous plants.  That's what Dan Segal wants to offer at the