Pro Map
, LLC, a company that produces the welcome cards.  "You return to the hotel or recommended businesses.  And the businesses would not be in the rack cards from the side of the front desk.  Very few of us have time to go through hundreds of those things."
With years of experience in hotel management and marketing, Odfalk knows what brings repeat business to hotels.  Her experience is matched by her enthusiasm for the cards and the potential for widening her market for them.  "With human skills you can just sell anything," she says.  "If you believe in the product it's even better.  If it is bringing people back into the area and it is giving me a livelihood I think it is meeting a lot of needs and I feel very happy with my job."
A native of Mexico City, Odfalk studied hotel management at the Hilton College of Hotel and Restaurant Management in Houston.  She worked in Paris for a summer, and then Sweden for 12 years.  She worked in hotel management as a sales manager in Sweden, Florida and Texas, and also had her own marketing company, Micro Marketing, which provided marketing services for small businesses.  After living in Texas for some time, her family moved to Ithaca where she worked as a conference coordinator for the Statler.  Active in the Rotary Club for years, she had also helped create awareness of their activities, as well as for Dryden Soccer and various other organizations.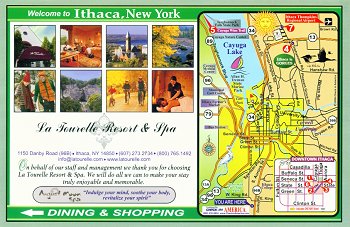 The welcome card for La Tourelle includes pictures of the
spa and a welcome message, as well as an area map
Last year she had been offered a director of sales position in Syracuse for a local hotel owned by an Indian company.  But five days before she was to arrive there to meet her team the company was sold, and she found herself unemployed.  Meanwhile Pro Map had seen her resume on monster.com, and they called her.  While selling to hotels was outside of what she considers the 'usual cookie-cutter hotel management field,' Odfalk saw the job as an opportunity to use her skills in a new and creative way.
She has applied that 'thinking outside the box' approach to the product, as well as to herself.  She plans to market the cards with a different slant to realtors, selling ads on those cards to mortgage companies, appraisal companies, banks, and other companies that home buyers would be interested in.  She also sees a use for the cards on the Cayuga Wine Trail and other venues that want to attract repeat business.
Matching the market to the client is what makes the welcome cards work.  "There are businesses who are interested in the type of audience that stays whether it's athletics, or Cornell parents, or corporate accounts like the Hampton Inn has a lot of business travel," Odfalk explains.  "The Holiday Inn also has a lot of business travel a little bit more of the athletic side of Cornell because it's a big hotel and they can house a lot of people.  La Tourelle has a totally different market.  It is a luxury spa market.  Groups of girls, they are concentrating on women."
The back of the card features area businesses that
will be of interest to La Tourelle patrons
Though she has only been with the company since September, Odfalk was recently made area manager for New York and Texas.  That means she recruits and trains salespeople in those markets.  She hopes to expand her involvement.  "Hopefully, I will venture into Canada and Mexico this year as well," she says.  "Guadalajara is a destination that I am exploring Cancun of course."
ProMap is a California based company that began 20 years ago.  They produced a Route 66 map that soon became popular and is still among their products.  They expanded their product line to tent cards that go on top of TVs in hotel rooms, key cards, and plasticized menus for restaurants that placed menus at hotels.  Odfalk says that nine months ago her boss, David York, came up with the idea of marketing the welcome cards, along with a companion on-line version.  "Why not create a perfect map of the city and a welcome message free to the hotels to give out to every guest," she says.  "Their favorite businesses be on the back sponsoring the card."
"Who would not like to be the first advertisement that a guest sees when they check in?" Odfalk continues.  "A quality product that specifies where they are located as well as the hotel.  The hotel expects repeat business by providing the service especially when they are swamped by people.  They can just hand this out.  People can go upstairs and go online and check out the menus and know exactly where they are and how to get there."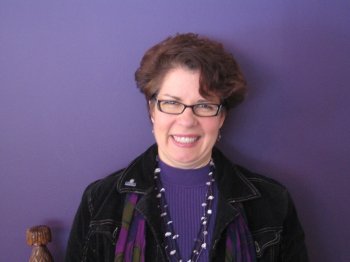 Liz Odfalk
As she recruits for the company she is looking for people like herself who are passionate about marketing, yet want a flexible schedule.  "It could be a person who just came out of college or is in high school or is about to retire and is tired of what he or she has been doing forever," she says.  It's great for stay-at-home moms that do have the time to work maybe 20 or 30 hours a week, even 10.  You grow as you can.  You add hotels to your repertoire as your time allows it."
That is how it works for her.  While she considers herself an international citizen of the world, she says that she loves this area.  With sons Carl and Christian at Dryden High School, it makes the perfect home base.  "They are incredible guys so we are very ,very committed to this community," she says.  "This is such a family-friendly town.  We would not even think twice (about leaving)."
With her love of marketing, travel, and the hotel business selling welcome cards is the perfect fit for Odfalk at this stage of her life.  "When I train people in Texas or here, they ask why I am so excited about the business," she says.  "I say because when you can finally put together your life experience and your professional experience and both blend in and become the platform to what you are doing, and it fits into your lifestyle, it's just fantastic."
----
v3i12
When you check into a hotel you are given a card with information, a message from the hotel, and a map, including ads from local businesses and dining establishments.  That's where you are likely to go, because the information is right there.  "You go back home, keep the card it's too nice to throw away," says Lizette Odfalk, Area Manager of